S'wonderful! – "An American in Paris" comes to WAC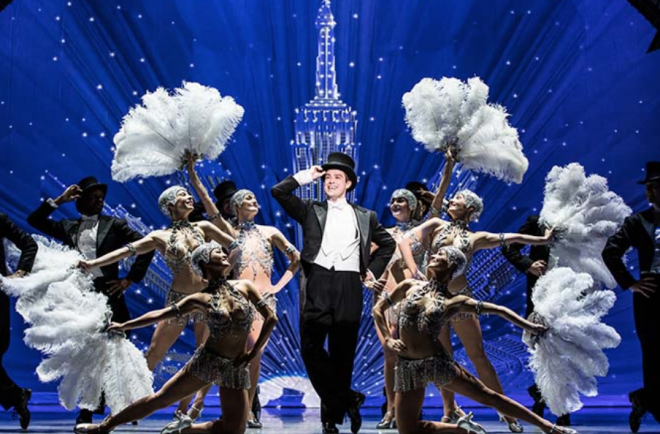 REVIEW / JULIA TRUPP
When you think of Paris, what comes to mind? After seeing "An American in Paris," a new musical inspired by the 1951 motion picture at the Walton Arts Center, you might start to think of the music of George and Ira Gershwin. 'S marvelous.
The musical follows American ex-GI Jerry Mulligan (McGee Maddox) after he decides to stay in post-World War II Paris to pursue art. Along his journey through the city, he falls for local dancer Lise (Allison Walsh), who is dating French singer Henri Baurel (Ben Michael), the son of a prominent Parisian couple. While Jerry tries to woo Lise, his paintings catch the eye of Milo Davenport (Kirsten Scott), a rich American heiress who becomes the benefactor of the upcoming ballet, and she has an interest for both the art and the artist. It's a giant love triangle.
The show opens in blackout, with a piano sitting in center stage and a cigarette being lit in the dark. This was a small, smart way to grab the audience's attention and pull them into the story. The lights go up to reveal Adam Hochberg (played by "An American in Paris" veteran Matthew Scott), a struggling concert pianist and fellow American, as he starts the show by addressing the audience, telling the story of what happened when Jerry Mulligan decided to stay in France.
As the music began and energy increased, platforms flew across the stage with projected backgrounds to create different buildings as we see Jerry walking through the streets of Paris, encountering many different people along the way as he catches his first glimpse of Lise. He draws what he sees, and the audience sees his drawings as background projections, almost like a memory being drawn out. The perspectives of the moving platforms across the stage, accompanied by the image projections in the background complemented each performance – it was a really unique set design that was impressive to watch unfold with each scene change. At one point, we can see two gentlemen outside for a cigarette who start flirting with a barmaid on the other side of the window – it's details like this that really brought the set to life. Throughout the show, colorful backgrounds with new set pieces mirrored a scene montage in movies, which was clever, quick, and clean.
Jerry finds his way to Cafe Dutois, where he meets Adam, who offers him champagne in place of coffee because it was "too early in the morning for coffee." That's some good advice worth taking.
The performers really understood and took advantage of beats and long pauses to add effect to their dialogue, and with the synergy of the action on stage, music, ballet, costume changes, and energy of the cast, the show was incredible. But do prepare yourself for a long show of dancing. There's plenty of wine waiting for you at the concession bar in the lobby.
I didn't know Gene Kelly personally, but as someone who grew up watching him and plenty of other classic performers in movies and on TV, I think this did the original justice. It captured the dance of the era, and it maintained the timelessness at the same time. If you haven't gotten tickets to see this show, "cheep cheep!" as Henri would say, only to be corrected by Adam and Jerry with "chop chop!" Get going. "An American in Paris" does a beautiful job with set and costume design, accent-work, and choreography. You won't just be seeing a musical – most of these performers have some sort of ballet background. 'S wonderful. 'S marvelous. 'S awful nice. 'S paradise.
Visit the Walton Arts Center website for ticket information and this season's upcoming shows.