Third annual Frost Fest serves up the suds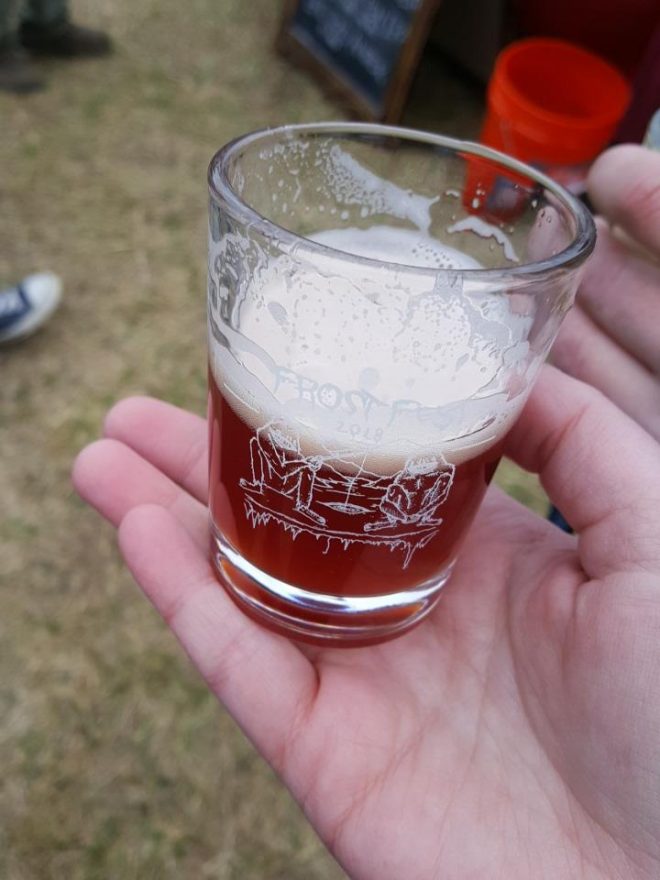 WORDS / JULIA TRUPP
Six more weeks of winter wasn't bad news for one craft beer festival. Fossil Cove's Frost Fest returned for a third year of frothy fun in close-to-freezing temperatures, back again for its second round at the Washington County Fairgrounds on Saturday, Feb. 3.
Like in years past, the Frost Fest mascot, the yeti, led a group bike ride on a dinosaur-skeleton-bicycle along the Razorback Greenway, complete with three brewery stops for a rest and a beer, according to the Fossil Cove website.
Last year 39 breweries were in attendance. This year the count went up to 42, which included almost every Arkansas brewery, and breweries from eight other states across the country.
Fossil Cove Brewing Co. partnered with Fayetteville-based nonprofit Apple Seeds Inc. Apple Seeds' mission is to inspire healthy living through garden-based education, according to the Frost Fest press release. This is the third year Apple Seeds and Fossil Cove have partnered with Frost Fest, and they will continue to be involved next year.
"Fossil Cove has done a wonderful job putting it together and executing one of the most sought-after events in Fayetteville," said Anthony Euculano, Whole Foods bartender and second-time festival attendee.
The event's entertainment didn't only include beer and its fans, but also local bands Yokohama Drifters, Cadillac Jackson and Sad Daddy jammed all day, Chad Maupin of Big Bot Design conducted a live-art demonstration inside the large tent in the middle of the fairgrounds.
Beaver Tails, Andouille Cajun + Creole, The JBGB, and plenty of other good eats had food trucks lining the edges of the festival. There was even a tent where passersby could purchase and indulge in varieties of cheese curds and sausage.
"Frost Fest was a great showcase of our state's craft beer scene, as well as others in the region," Eucalano said. "I love seeing our craft beer scene flourish in my home state!"
Frost Fest 2018 Participating Breweries
Anthem Brewing Co. — Oklahoma City

Apple Blossom Brewing Co. – Fayetteville

Bentonville Brewing Co. – Bentonville

Bike Rack Brewing Co. – Bentonville

Black Apple Crossing – Springdale

Blue Canoe – Little Rock

Bubba Brew's — Bonnerdale

Central Standard Brewing — Wichita, Kansas

Cinder Block — Kansas City, Missouri

Columbus House Brewery – Fayetteville

Core Brewing & Distilling — Springdale

Crane Brewing – Raytown, Missouri

Dead Armadillo Craft Brewing — Tulsa, Oklahoma

Diamond Bear Brewing Co – North Little Rock

Earthbound Beer — St. Louis, Missouri

Flyway Brewing Co. – North Little Rock

Fossil Cove Brewing Co. – Fayetteville

High Cotton Brewing Co. — Memphis, Tennessee

Independence Brewing Co. — Austin, Texas

JJ's Brewing — Fayetteville

Lagunitas Brewing Co. – Lagunitas, California

Lazy Magnolia Brewing Co. – Kiln, Mississippi

Leaky Roof Meadery — Buffalo, Missouri

Lost 40 Brewing – Little Rock

Marshall Brewing Company – Tulsa, Oklahoma

Mother's Brewing Co., Springfield, Missouri

Narrow Gauge Brewing Co. — Florissant, Missouri

New Province Brewing Co. – Rogers

Oak Highlands Brewing — Dallas, Texas

Ozark Beer Company – Rogers

Saddlebock Brewery – Springdale

Schlafly – St. Louis, Missouri

Springfield Brewing Company – Springfield, Missouri

Stone's Throw Brewing — Little Rock

Urban Chestnut — St. Louis, Missouri

West Mountain Brewery – Fayetteville

Wichita Brewing Co. — Wichita, Kansas

Wiseacre Brewing Co. – Memphis, Tennessee