Robyn Horn's "New Directions" open at Justus Fine Art Gallery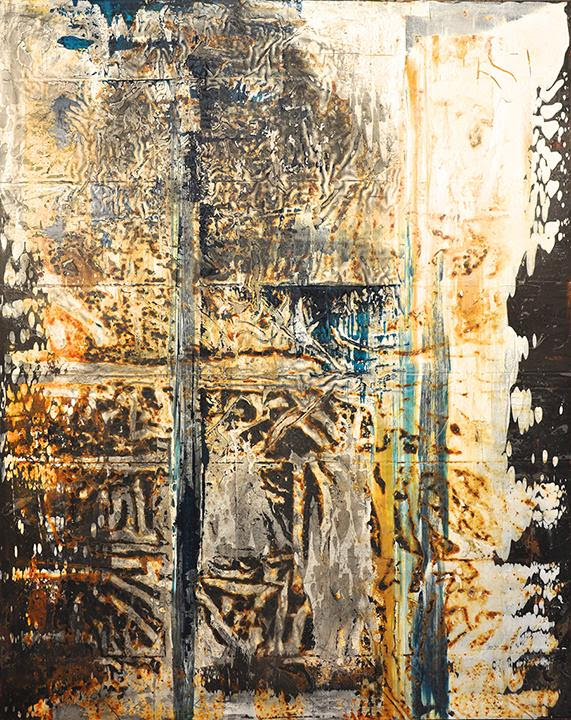 The November exhibit at Justus Fine Art Gallery will feature a selection of sculptures and paintings by Robyn Horn (an "Artist We Love" in the 2019 Visual Arts Issue) throughout this month. A range of Horn's sculptures from her Millstone and Slipping Stone Series, to her Industrial Series will be included in the show, along with new paintings that reflect her interest in texture, movement, and the balance of organic elements with geometric form, according to a press release. The exhibit will be on display until Nov. 30.
"I am drawn to abstract, geometric sculpture, the volume of it, the form, the textures, the negative space," Horn says. "I am obsessed with tension and movement, the gestural qualities of sculpture … I persist in seeing sculpture in a purely visceral way, line and mass, the interplay of angles and planes to create effects of light and shadow, with a strong emphasis on visual grace, and a sense of structural strength and unity."
Horn's work has been collected and exhibited by museums and galleries throughout the nation and abroad. Public collections include: The National Museum of American Art, Renwick Gallery, Washington,D.C.; Museum of Arts and Design, New York; Victoria and Albert Museum, London; Museum of Fine Arts, Boston; Museum of Fine Arts, Houston; White House Collection of American Crafts, Clinton Library, Little Rock; Arkansas Arts Center, Little Roc; Fuller Craft Museum, Brockton, Massachusetts; Arizona State University, Tempe, Arizona; Long Beach Museum of Art, Long Beach, California; Los Angeles County Museum of Art, Los Angeles; Minneapolis Institute of Arts, Minneapolis; Mobile Museum of Art, Mobile, Alabama; The Center for Art in Wood, Philadelphia; Yale University Art Gallery, New Haven, Connecticut; Ogden Museum of Southern Art, New Orleans; North Carolina State University, Gregg Museum of Art & Design, Raleigh; Mint Museum of Craft & Design, Charlotte, North Carolina; Detroit Institute of Art, Detroit; Arrowmont School of Arts & Crafts, Gatlinburg,Tennessee; and many others.
Opening receptions at Justus Fine Art Gallery are held in conjunction with the Hot Springs Gallery Walk held from 5 to 9 p.m. the first Friday of every month in downtown Hot Springs. Hours are 10 a.m. – 5 p.m., Wednesday through Saturday and by appointment. Justus Fine Art Gallery is located at 827 A Central Avenue in Hot Springs, Arkansas. For more information, call 501-321-2335 or visit online at 
justusfineart.com
.