REVIEW: "Boeing Boeing" at the University of Arkansas' Fine Arts Theater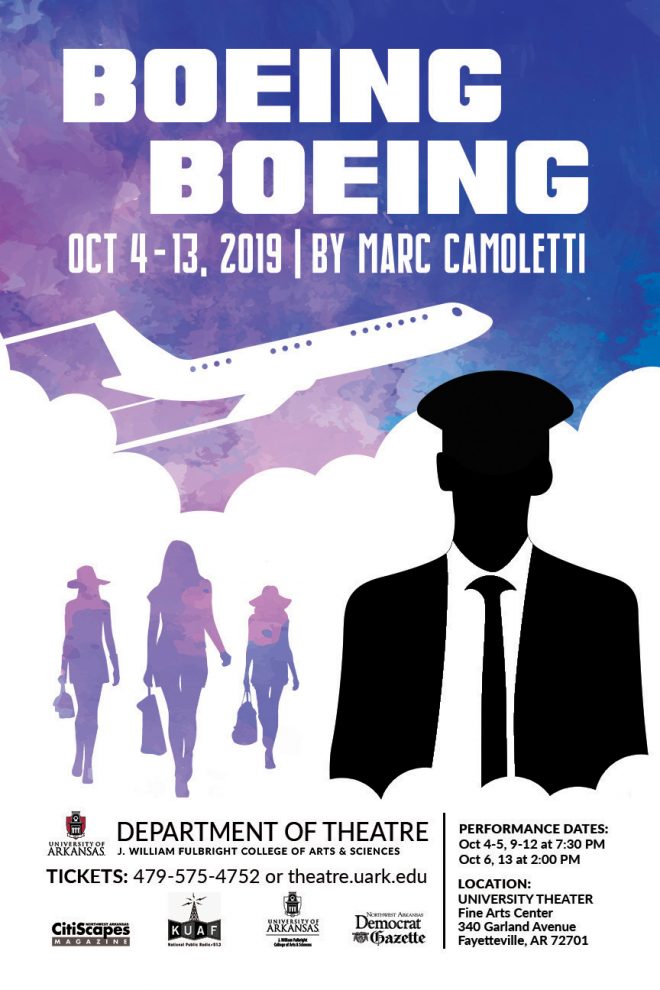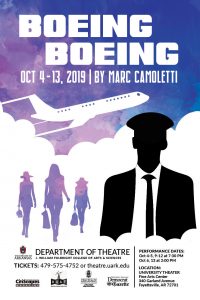 The University of Arkansas Department of Theatre started its 2019-2020 season with a cast of all undergraduate students in the French comedy "Boeing Boeing." The play was originally written in French by Marc Camoletti in 1960 and translated to English by Beverly Cross in 1962. Set in Paris, the play follows the hilarious struggles of Bernard, played by Peter Kieklak, as he tries and fails to keep his three fiancees from running into each other at his bachelor pad. 
Keeping three separate romances from crashing and burning proves to be an undertaking that only becomes more demanding when everyone's schedules get mixed up. It is during this same weekend that Robert, Bernard's friend from the U.S. arrives. Thanks to this, the story becomes more complicated as more characters are introduced and more timetable mishaps arise. 
Sadly, Kieklak's Bernard failed to embody the strong confidence of the character. 
Throughout the show, Robert, played by Zach Currie, carries the show with nearly perfect comedic timing and an incredible chemistry with the whole cast. The character himself is the most important part of the plot, and Currie makes him memorable and a joy to witness. 
Berthe, Bernard's French maid played by Chloe Haroldson, tends to be the shoe-in comedic relief for most productions of "Boeing Boeing," but the actress's performance fell short next to Currie in this assembly. While Haroldson's French accent was perfect for an American audience, many of her punchlines were lost because she was too quiet. The character enters and exits the stage while delivering sarcastic remarks about her boss and his guests' behaviors and demands, but these were once again lost in the audience's laughter from the previous line.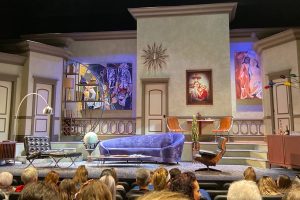 Bernard's fiancees turned out to be more memorable than the ladie's man himself. Every single one of them was friendly with Berthe, regardless of her opinion of them, and all three girls were definitely convinced they were the lady of the house. While Bernard describes them only by their nationality, their personalities are all unique, aided by the actresses' performances.
Bethany Kasper plays a perfectly ditzy yet confident American stewardess, Gloria, who is clueless of her lover's deviousness. Kasper plays Gloria's true American self in the third act, when she reveals her matter-of-fact attitude towards love and relationships to Robert. 
Claire Fossey plays Bernard's Italian lover–her strong attitude makes her a perfect match to flimsy Bernard. It was immediately visible that the actors, like their characters, had the best chemistry of all of Bernard's relationships. Despite losing her Italian accent a few times, her delivery did not suffer because of it.
Aubrey Pohlman played Gretchen, a subtle German stewardess, with a performance more suited for a delicate movie drama on the small screen. However, that was not the downfall of her performance. Pohlman's thick German accent drowned her out as well as her quiet delivery.
 Nothing can make Camoletti's "Boeing Boeing" boring, flat or disappointing, and this cast did nothing of the sort.