Pitch Night Bentonville Winner To Install Monumental "Red Dirt Rug" at ArtPrize Nine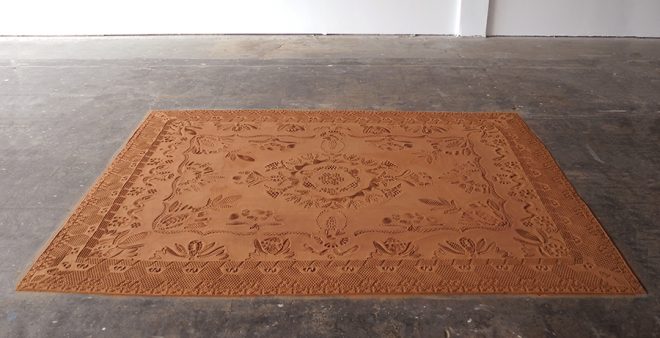 ArtPrize, the independently organized art competition recognized as the world's largest annual public art event — in collaboration with 21c Museum Hotel, Delta Air Lines and Experience Grand Rapids —

tonight

awarded a $5,000 grant to Rena Detrixhe for her Pitch Night Bentonville-winning entry, "Red Dirt Rug". In addition to the grant, the installation earned a guaranteed spot at Western Michigan University Grand Rapids during ArtPrize Nine, slated to take place

September 21-October 8, 2017

.

"A dimension of Rena's work that we all enjoyed was the idea of picking up a patch of land in one place, in a very sensitive way, and moving it to an entirely different place on the earth," said Dayton Castleman, Museum Manager at 21c Bentonville.

Tonight's event was hosted by 21c Museum Hotel at their Bentonville, Arkansas location — on the northeast corner of the Bentonville town square and a short walk to Crystal Bridges Museum of American Art. 21c Bentonville features more than 12,000 square-feet of exhibition space seamlessly integrated into all areas of the property, with opportunities to discover art around every corner.

Rena Detrixhe's work was selected from among five artists that were invited to present at tonight's Pitch Night event. Each artist was given five minutes and five slides to sell their ambitious, site-specific installation idea to a panel of local arts professionals including: Dayton Castleman, Museum Manager at 21c Bentonville; Don Desmett, Curator of the Western Michigan University ArtPrize venue; Shannon Dillard Mitchell, Independent Curator; Lauren Haynes, Curator of Contemporary Art at Crystal Bridges Museum of American Art; and Marc Mitchell, Curator and Director of Exhibitions, Co-Director of Graduate Studies, and Assistant Professor at the University of Arkansas.

"This piece is part sculpture, part performance, part ritual and meditation," said Detrixhe, describing her work at tonight's event. "It embodies the complicated history of our relationship to the land, to place the weight of human impact on the environment. It questions our perceptions of permanence and impermanence, and challenges how we ascribe value to the land."

Over the past year and a half, Detrixhe has explored the landscape of Oklahoma — its history and its geography. Like many others, it is a place where human presence has deeply altered the landscape. As the daughter of a soil conservationist and a ceramicist, Detrixhe was drawn to the rich red dirt — the dirt of the Dust Bowl — that is emblematic of this part of the country.

Her Pitch Night-winning project is a monumental, ephemeral, site-specific carpet made out of this red dirt. The artist will collect more than 240 gallons of red soil, refining it all by hand before creating the installation. She will spread the dust in a thin, even layer on the floor at Western Michigan University Grand Rapids — creating a 1,000-square foot canvas on which to apply a pattern with modified shoe soles one shape at a time, until the form of the rug is revealed on the surface. The shoe prints act as an indicator of human presence, of culture and pattern, and also represent a literal separator between people and the earth.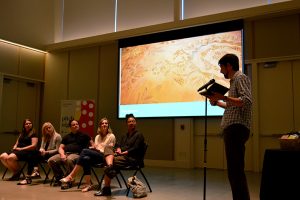 "Our complicated relationships to the land live outside the constructs of 'state', and the art does as well," said Detrixhe about her work. "I believe it's meaningful to create this work in Michigan at this time of political and environmental uncertainty. Michigan in particular is vulnerable to threats to the environment — it is home to the largest freshwater source on earth. Concerns such as the water crisis in Flint, air and water pollution in Detroit and elsewhere, and the potential for disastrous oil spills, threaten this important landscape."
ArtPrize Pitch Night launched in 2013 as a means of discovering and supporting ambitious, exciting projects and to reduce the barriers to bringing them to the annual competition. Since its inception, the Pitch Night program has continued to expand and in 2016 includes events in six cities across the country. 21c Museum Hotel will host three events — in Louisville, KY on May 15; in Durham, NC on May 17; and tonight in Bentonville, AR. The Museum of Contemporary Art Detroit will host a Pitch Night event on June 1, the Contemporary Arts Center, New Orleans on June 5, and the Indianapolis Museum of Art on June 8. Each event will award the winning artist $5,000 and a spot in a prominent ArtPrize venue during the eighth annual event.
ArtPrize Nine will take place across downtown Grand Rapids, Michigan from September 20-October 8, 2017. Artist registration for the world's largest art competition is now open through June 8.
ABOUT 21c MUSEUM HOTEL
21c was founded by Laura Lee Brown and Steve Wilson, contemporary art collectors and preservationists who are committed to expanding access to thought-provoking contemporary art. A multi-venue museum, each 21c property features exhibition space open free of charge to the public, combined with a boutique hotel and chef-driven restaurant. 21c presents a range of arts programming curated by Museum Director, Chief Curator Alice Gray Stites, including both solo and group exhibitions that reflect the global nature of art today, as well as site-specific, commissioned installations, and a variety of cultural events. The organization collaborates on arts initiatives with artists and organizations worldwide, including North Carolina Museum of Art, MASS MoCA, Contemporary Art Museum Houston, The Barnes Foundation, Contemporary Arts Center, Cincinnati, Creative Capital Foundation, and others. Since opening in Louisville, KY in 2006, 21c Museum has presented nearly100 exhibitions, including Cuba Now!; Alter Ego: A Decade of Work by Anthony Goicolea; Hybridity: The New Frontier; Aftermath: Witnessing War, Countenancing Compassion; Seeing Now; Wild Card: The Art of Michael Combs; Dis-semblance: Projecting and Perceiving Identity; Albano Alfonso: Self-Portrait as Light; Pop Stars! Popular Culture and Contemporary Art; Labor&Materials, Fallen Fruit: The Practices of Everyday Life; The Future is Female; and Truth or Dare: A Reality Show.

For more information visit 21cMuseumHotels.com.

ABOUT ARTPRIZE
ArtPrize is an international art competition, open to any artist and decided by public vote. It invites artists to try out new ideas on a large and diverse population of people. It seeks to broaden the critical dialogue around contemporary art by awarding the world's largest art prize. Two $200,000 awards are decided by public vote and expert jury, and an additional $100,000 in prizes is awarded to the top entries in each category. Registered artists and venues connect online at artprize.org and agree to present the artwork for public display during the 19-day event. The public votes using mobile devices and the web to distribute their awards, while a group of international art experts determines the winners of the juried awards. ArtPrize Eight included 1,453 entries representing 44 countries and 40 U.S. states and territories. ArtPrize annually attracts more than 400,000 active participants. Since its inception, individuals of all backgrounds have cast more than 3.2 million votes for public art.

ArtPrize is made possible in part through the generous support of many organizations. The Corporate Leadership sponsors include Amway, DTE Energy Foundation, Founders Brewing Company, Kendall College of Art and Design of Ferris State University, Meijer, Michigan Economic Development Corporation, PNC Bank, Switch, West Michigan Honda Dealers, and X-Rite Pantone. Premier sponsors include Consumers Energy; CWD Real Estate Investment; Edward Jones; Haworth; Herman Miller Cares; ITC, Your Energy Superhighway; Michigan Lottery; Steelcase; and Wolverine Worldwide.

Leading Foundation Supporters include the Richard and Helen DeVos Foundation, the Daniel and Pamella DeVos Foundation, the Douglas and Maria DeVos Foundation, CDV5 Foundation, the Efroymson Family Fund, the Frey Foundation, the Peter C. and Emajean Cook Foundation, The Wege Foundation, the National Endowment for the Arts and the Michigan Council for Arts and Cultural Affairs.

CWD Real Estate Investment is the Official Real Estate Provider. Honda is the Official Vehicle of ArtPrize. MLive Media Group is the Official Provider of the ArtPrize Event Guide. The Rapid is the Public Transportation Partner. WOOD TV8 is the Official Broadcast Media Partner of ArtPrize.

The Dick & Betsy DeVos Family Foundation is the Founding Sponsor of ArtPrize.