Pink House Alchemy to host first event in new space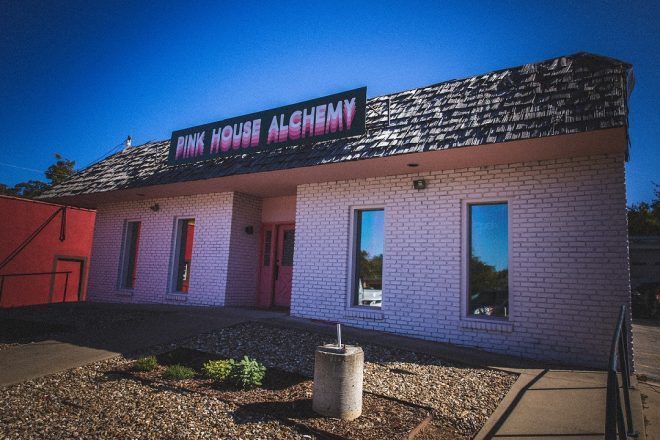 Lately it would seem everything's coming up roses for College Avenue businesses. Pink House Alchemy recently moved into a space near downtown Fayetteville (if you've driven past a bubblegum-pink building, you've seen it), and the business is hosting its first event on Nov. 1.
Pink House Alchemy is a Fayetteville-based maker of simple syrups, bitters, and shrubs. Their new headquarters on College Avenue is a combination storefront, gallery, event space, and café, where the team serves coffee and sodas with handmade flavoring, as well as hosting arts events and parties.
From 6 to 9 p.m., Little Rock-based artist Lakey Goff (Siri RajDeva) will present new paintings, which focus on the holiness of remembrance. The series includes paintings on themes of dreams, meditation, nature intelligence, and the angelic realm, according to a press release.
"Art is about remembering all the wisdom that's inside of us, everything we've forgotten, everything that we were told that we weren't—that's what my art is about," Lakey says.
Chef Michael Robertshaw and Meredith Butler's Persephone on Wheels food truck will be on site. Drinks will be served by Pink House Alchemy.
Lakey, who is also a yoga practitioner with a focus in Auric healing, will offer aura readings for $65 throughout the evening. Lakey will also lead a $18 meditation and kundalini yoga class at Pink House from 10 to 11 a.m. Nov. 2.
The art show will run through Dec. 1. Pink House Alchemy HQ is at 928 N College Ave., Fayetteville, AR. 72701.