OZ Art NWA + Justkids team up again for new mural from Detroit based artist Ouizi in Downtown Bentonville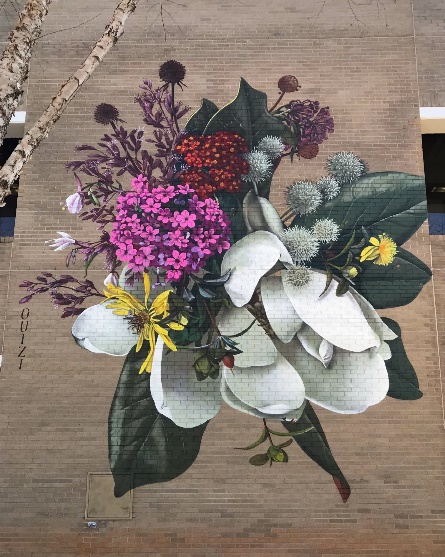 OZ Art NWA and Justkids have partnered to bring artist Ouizi to Bentonville for a large public art installation. The mural will be located in downtown Bentonville on the corner of Main and 2nd Streets. Ouizi began her work yesterday and will take two weeks to complete.
"I am delighted and humbled to return to Bentonville to paint a new mural in the town square," said the artist Ouizi. "When I was last here painting inside Crystal Bridges, it was Summer, so I look forward to seeing the city in the Spring!"
Louise Jones (née Chen), aka Ouizi, was born and raised in Santa Monica, Calif. to Shanghainese parents. She is best known for her large scale floral mural installations which can be seen in public spaces throughout the United States, from museums to public parks. The murals often depict site-specific plants and animals, and the techniques are uniquely informed by her education in drawing and printmaking.
Ouizi's affinity towards botanical subjects continues to grow, stemming from an early introduction to Georgia O'Keeffe and fond memories of picking figs with her grandmother. She currently lives and works in Detroit.
About OZ Art NWA
OZ Art NWA brings together a network of art, artists, events and experiences throughout Bentonville and Northwest Arkansas. Founded in 2017 in the hometown of Crystal Bridges Museum of American Art and The Momentary, OZ Art NWA supports the regional arts scene with its own collection displayed throughout Bentonville and by collaborating with regional arts organizations. Exploration is a way of life in Bentonville. OZ Art NWA brings the newest form of adventure and culture that you don't want to miss.
About Justkids
Justkids is a multi-disciplinary, women-led art platform providing design, curatorial and production services for public and private art initiatives. With a strong international network of leading contemporary artists, curators and creative teams, Justkids offers wide-ranging visual experiences that engage with diverse audiences and communities. Justkids collaborates with cities, communities, visionary brands and institutional spaces to drive visual culture and create unforgettable experiences that celebrate art. Visit www.justkids.art for more information, and follow their social accounts:
Instagram: @justkidsofficial
Facebook: www.facebook.com/justkidsart
Twitter: @justkidsart