North Forest Lights to return to Crystal Bridges Museum of American Art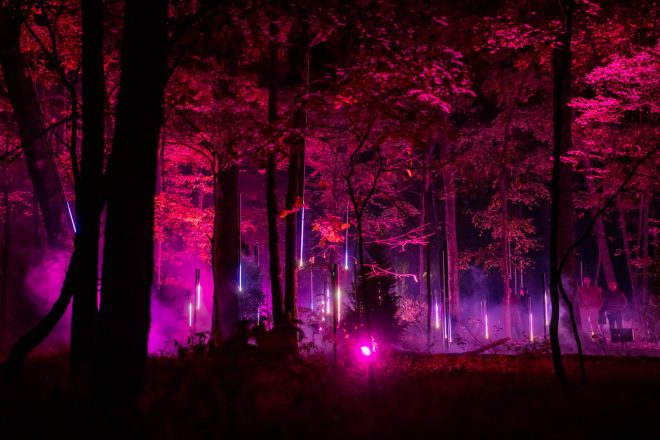 The curation and programming teams at Crystal Bridges Museum of American Art really know how to make a person feel enchanted. North Forest Lights is returning to the Ozark woods this fall. Featuring "dynamic, nature-inspired lighting elements and immersive soundscapes," the family-friendly outdoors experience will bring the soul of the neighboring forest to life for a second year. North Forest Lights will be open in the evening hours after sunset Friday through Sunday. Additional days may be offered later in the season.
ABOUT NORTH FOREST LIGHTS
Crystal Bridges partnered with Montreal-based multimedia and entertainment studio Moment Factory to bring this concept to life. In 2020, Moment Factory won the mondo*dr "Americas Award" in the Parks & Attractions category for their work on North Forest Lights.
Walking through the Ozark woods, each encounter translates nature's secret music and hidden communication into a symphony of light and sound. North Forest Lights invites people to reconnect with nature and art while making everyone feel part of it.
Five distinct installations will come to life with light, sound, and special effects:
Crystal Grove – See the glowing language of young saplings, as they seem to communicate through shimmering crystal lights.
Forest Frequencies – Channel the natural and human past as light and music connect you with the wavelengths of the Arkansas woods.
The Hearth – Gather around a bonfire-like sculpture to immerse yourself in the warm glow and beating heart of nature.
Whispering Tree – Communicate with a magnificent tree to learn about the color of your own voice.
Memory of Water – Surround yourself in light and sound, as a simulated stream brings water back to this dry creek bed.
This experience sells out fast so be sure to book your tickets soon! Read about the museum's new safety measures here.
TICKET INFORMATION
Adults: $22
Adult members: $15
Youth 7 to 18: $10
Youth members 7 to 18: $7
Kids 6 and under: FREE