Little Rock Winds to present "An American In…" musical program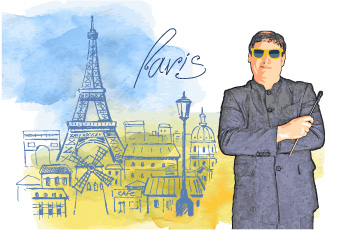 The Little Rock Winds and conductor Israel Getzov will present "An American In…", with a program that connects musical visits to fun places and settings. With George Gershwin's "An American in Paris" as the centerpiece, the program will feature the following:
Maslanka                         On This Bright Morning
Arr. Ralph Ford                Go West!
Michael Daugherty          Brooklyn Bridge Clarinet Concerto, mvt. 3 & 4
                                             Steven Becraft, clarinet
Alfred Reed                     Alleluia! Laudamus Te
                                          In memory of Elizabeth Plowman
arr. Chris Sharp              An American Spectacular
George Gershwin           An American in Paris
Henry Fillmore                Americans We
Those attending are encouraged to find their high school or college band letter sweater or jacket and wear to the concert for a fun photo opportunity.
The program will begin at 7:30 p.m. Feb. 21 at the Second Presbyterian Church, 600 Pleasant Valley Drive, Little Rock. Tickets are $15 for adults, $12 for seniors, and free for students. More information can be found at lrwinds.org.