Arkansas Poet Laureate Jo McDougall named winner of the Lifetime Achievement Award by the Porter Fund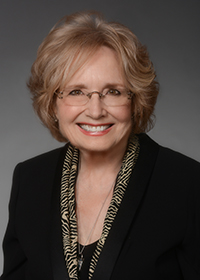 Poet and writer Jo McDougall, a native of DeWitt and the current Poet Laureate of Arkansas, has been selected to receive a Lifetime Achievement Award by the Porter Fund, an organization supporting the literary arts in Arkansas. The Porter Fund's Lifetime Achievement Award is given out every five years to an Arkansas writer with a substantial and recognized body of work. McDougall is the fourth Arkansas writer to be given the Lifetime Achievement honor following Donald Harington in 2004, Miller Williams in 2009 and Charles Portis in 2014. The Lifetime Achievement Honor comes with prize money of $2,000.
McDougall will be recognized at a gala at the William J. Clinton Library and Museum at 6:30 p.m. June 20, 2019.
"It is an extreme honor to be selected by one's peers, and I am humbled by this recognition," says McDougall.  "There are so many powerful writers out there who deserve this award.  I never dreamed of receiving it."
In April of 2018, McDougall was appointed Poet Laureate of Arkansas by Governor Asa Hutchinson.  She has published six poetry collections: The Woman in the Next Booth (1987), Towns Facing Railroads (1991), From Darkening Torches (1996), Dirt (2001), Satisfied with Havoc (2004), and The Undiscovered Room (2016).  The University of Arkansas Press published a compilation of McDougall's poetry, In the Home of the Famous Dead: Collected Poems, in 2015.
McDougall has been awarded a fellowship from the Arkansas Arts Council and received the Porter Prize in 2000. She has received several fellowships to the MacDowell Colony and awards from the DeWitt Wallace/Reader's Digest Foundation and the Academy of American Poets.. Her work has been published in leading journals and newspapers, including Arkansas Review: A Journal of Delta Studies, The Kenyon Review, The Hudson Review and in several anthologies including Good Poems for Hard Times, edited by Garrison Keillor. She was inducted into the Arkansas Writers Hall of Fame in 2006. Towns Facing Railroads, adapted from McDougall's work, premiered at the Arkansas Repertory Theatre in 2006. In 2011, she published her memoir, Daddy's Money: A Memoir of Farm and Family. She has an MFA in Creative Writing from University of Arkansas – Fayetteville. She lives in Little Rock with her husband, Charles.  
The Porter Fund was founded in 1984 by novelist Jack Butler and novelist and lawyer Phil McMath to honor Dr. Ben Kimpel. Kimpel was noted professor of English at the University of Arkansas at Fayetteville. The Porter Fund prize is named in honor of Kimpel's mother, Gladys Crane Kimpel Porter. The annual prize of $2,000 is given to an Arkansas writer of merit and has been awarded to over 30 poets, novelists, non-fiction writers and playwrights. In October fiction writer Tyrone Jaeger was given the 2018 Porter Fund prize.