Second Life: Local Designers Look for the Old to Create the New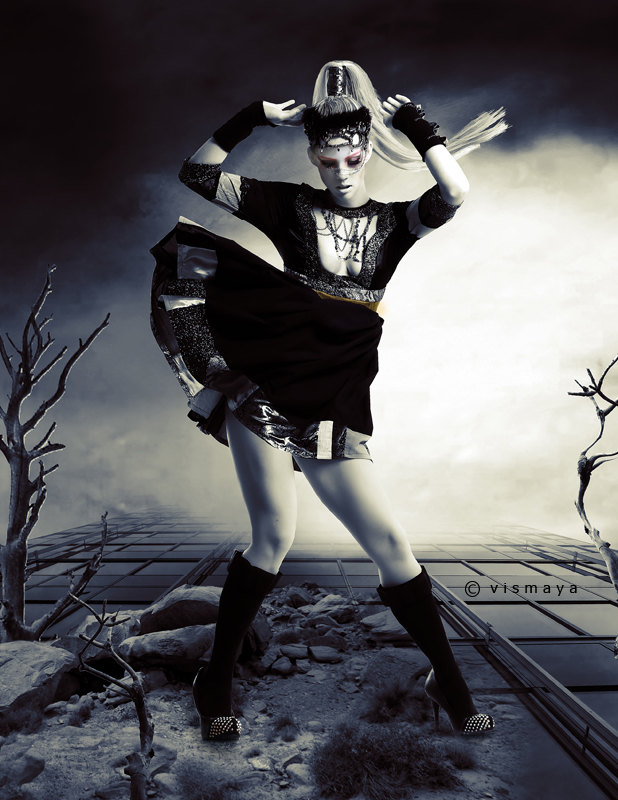 WORDS / TERRAH GRAVES
Looking fashionable in today's world can come at a high price. New styles literally change weekly, which means a lot of money for the consumer and industrial waste for the planet, both from discarded clothes and during the production process. Several designers in Arkansas have a solution – recycle, repurpose, recreate. While there are many artists in the state that are skilled in taking what seems to be out-of-date or old and pairing it in new ways or totally changing its structure and look, we've highlighted three who have made a name for themselves in the local fashion world. They do what not many can – create quality clothing and jewelry on a budget, re-imagining a second life for pieces that others have thrown out.
Rosie Rose Designer
Rosie Rose said she's been collecting interesting pieces for years. Her favorite fabrics to work with are "upcycled" and eco-friendly, like bamboo. From her collection she creates things totally new and unique, sometimes from her own mind, and sometimes from the imagination of others. Not only does she like that using discarded clothing has basically no additional carbon footprint, she loves bringing new life into old clothing.
"I like the idea of taking something that was an old garment that nobody loved anymore that was ugly and sad and turning it into something fabulous and beautiful and new… It's like turning the caterpillar into the butterfly," Rose explained.
After an apprenticeship with Mark Hughes in Eureka Springs, learning to sew and create handmade clothing, she began fashion design the professional way in 2010. Today, in her business Rosie Rose Designer, she creates custom pieces from handmade patterns and designs – like a dress for a woman who had a double mastectomy or a Snow White-inspired wedding gown – and is showing her more high-end fashion work on the runway in Northwest Arkansas Fashion Week (NWAFW) in March 2017. She specializes in custom work for weddings and formal events, creating fairytale-like dresses, but also makes casual wear, custom tea towels and baby onesies, all sold on her Etsy shop Rosie Rose Designer.
Emily's OneManBand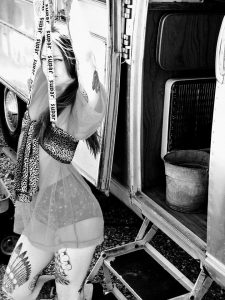 Emily Smith names her clothing line according to her personality – she brings everything necessary to make some noise, even with what she wears. But in her mind, someone shouldn't have to work their life away to be fashion forward on the daily. While she spends much of her time refurbishing and reinventing classic and quality pieces she finds at thrift and second-hand stores, her dream is to help others find freedom in never having to pay retail prices.
After finishing her degree at the University of Arkansas she realized being a "wealthy work horse" was not what brought her happiness. Working at a second-hand, vintage clothing store part-time for the better part of eight years led her to what did. It was there that she honed her skills of picking out quality items that she could recreate, or timeless pieces she could bring back to life.
"I know all the labels, and all the materials, after seeing so many things come through the store and from my own shopping – it's like second nature," Smith explained.
Her outfits are more "designeresque" but because she lacks traditional sewing skills, she pieces together with cutting, hand sewing, tying, and dying. Her pieces come about not by prior pattern work but by finding a piece that inspires her. "I'll find something really awesome and ask myself what I'm going to make out of it."
Her eye for unique fashion is not missed by others either. She's had jewelry and clothing in stores like MACA Boutique, Four Legged Bird and Mayapple Salon and Boutique, and is serving as fashion and editorialist consultant for NWAFW 2017. She also maintains her Etsy shop Emily's OneManBand that has gathered a close following and is regularly stocked with upcycled and repurposed, hand-altered clothing.
The Glamorous Gauge Co.
Julia Terry started making her own gauges years ago, when she realized what was available on the market wasn't unique enough for her style. One day while contemplating how to create plugs she enjoyed wearing, she remembered a pair of antique clip-on earrings her mom had given her.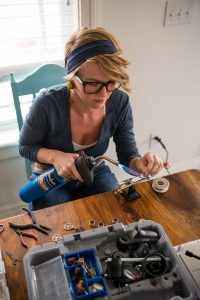 "I realized they'd fit perfectly on a pair of plugs, so using those I started making my own."
She collects glamorous earrings and discarded jewelry from antique stores, thrift stores and family and friends, takes it apart, and puts it back together with an eye for texture and color that highlights natural beauty. Not only does using these found pieces make for designer-style gauges, but it brings an old piece of jewelry back into the spotlight, she said.
She's made and sold jewelry before, in places like Lola's Boutique and Something Urban, but gauges and custom orders are what have been inspiring her newest collection.
"Whenever I make a pair of gauges, whether it's handmade hoops that I can wire-wrap with beads or incorporating stones, I pay attention to the smallest details," Terry said.
It's her attention to detail and eye for classic glamour that drives her Etsy store, The Glamorous Gauge Co., and brings in custom orders for weddings and special events.
Photos courtesy of the subjects.