House of Songs to host Songwriter Showcase in Springdale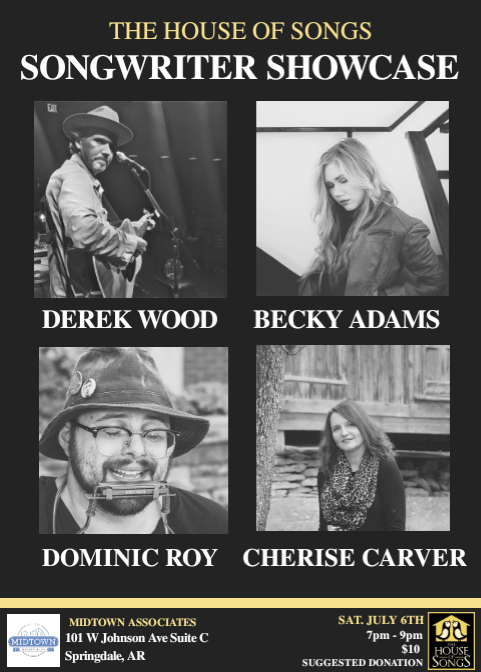 The House of Songs, an International Songwriting Collaborative that invites songwriters from around the world to share the universal language of music, has partnered with Midtown Associates to host the monthly "Songwriter Showcase." The event will feature four Arkansas-based musicians on the newly built performance stage.
The featured artists include Little Rock-based Derek Wood, known as the front-man for  The Going Jessies, a bluesy-Americana and alternative-country styled group; Nashville, Arkansas-based contemporary singer-songwriter Cherise Carver; Dominic Roy, a folk-rock singer-songwriter hailing from Siloam Springs, and Becky Adams, an emerging artist from Fayettevilleknown for her introspective lyrics and infectious melodies, according to a press release.
"I am honored to be part of the House of Songs Songwriters Showcase," Carver said. "It's an amazing experience to hear original songs from different artists. I was overwhelmed by the talent at the showcases I've attended. Everyone is so unique and you never know–you might be the first to hear the next big hit or you might inspire it."
Wood also expressed excitement for this showcase.
"I'm excited about this show because I don't get a lot of opportunities to hang out with other songwriters, and I'm especially excited to hang out with writers of this caliber," Wood said. "Also, as someone who grew up dreaming of Guy and Susanna Clark's dining room table, the House of Songs concept resonates with me. I like the idea of spending time in a house full of writers."
The singer-songwriter showcase is slated from 7 to 9 p.m July 6 at 101 W Johnson Ave Suite C with a $10 suggested donation. Refreshments will be provided by Midtown Associates.