Crystal Bridges Museum of American Art announces first year completion for Windgate School Partnership Program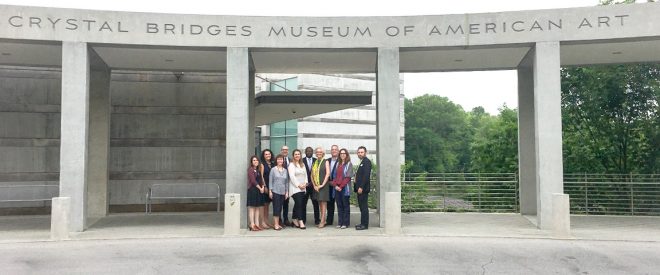 Crystal Bridges Museum of American Art recently announced the completion of "Year One" of the Windgate School Partnership Program. The project was the result of a $15-million gift from the Windgate Charitable Foundation in 2017. The Foundation established a first-of-its-kind program with a Windgate Advisory Board which identifies issues facing schools and develops arts-based initiatives to improve student outcomes.
"Thanks to the generosity of the Windgate Foundation, Crystal Bridges has the resources to effect real change across the educational landscape locally, regionally and nationally," said Dr. Nile Blunt, head of school programs at Crystal Bridges.
The Windgate School Partnership Program focuses on 17 schools throughout Arkansas, Missouri, and Oklahoma as the subject of a 10-year longitudinal study led by Professor Jay Greene at the University of Arkansas. "The program includes professional development for teachers, teaching artist residencies in the schools, and field trip experiences to Crystal Bridges for students from each school participating in the program to promote art as a support for social and emotional development and academic success," according to a press release.
The overall goal of the 10-year study is to understand if multiple art museum experiences can have a sustained effect on students over time. The inspiration came from a previous study that uncovered the impact from one field trip to the museum. Research showed it was significant in areas of critical thinking, recall, tolerance, empathy, and cultural interest, with the effect greatest in rural areas, high poverty schools, and minority students, according to a press release.
As part of the program and new study, many of the participants are from Title I schools in rural areas, where over 1,000 students have experienced three art-integration sessions and two field trip visits to Crystal Bridges, while 53 teachers have gone through three weeks of professional development facilitated by Trike Theatre to learn how to use arts-based curriculum in the classroom.
Last month, the Windgate Advisory Board met to discuss the "Year One" outcomes. It was determined that within the first year, the majority of participating teachers had requested reproductions of artworks discussed on the tours and were using them in their classrooms as part of new art-integration strategies for teaching different subject matters.
"Early evidence in this past year is pointing toward positive changes in our students' abilities to interact independently as well as in group with content being taught using art integration strategies. Student desire to learn and show their learning through a variety of art methods was impressive," said Beverly Workman, a teacher at Greenland Elementary School. "Most of these students have never engaged with art like this, and we're seeing signs of progress and really eager to see the success over time."
Going into "Year Two," the program will focus on continuing to support arts experiences, providing more opportunities for artmaking and arts-integration in learning practices, and giving teachers a voice in the creation of the curriculum early on.
The board is chaired by Dr. Jane Best, former Director of the Arts Education Partnership, and Blunt serves as the board administrator. The board includes:
Arthur Affleck, Vice President of Development at the American Alliance of Museums
Susan Chambers, former Executive Vice President for Wal-Mart Stores, Inc.
David Dik, National Executive Director of Young Audiences for Learning
Jean Hendrickson, former Executive Director for Oklahoma A+ Schools
Sarah Johnson, Chief Education Officer and Director of the Weill Music Institute at Carnegie Hall
Dr. Deborah Reeve, the Executive Director of the National Art Education Association
Mario Rossero, Senior Vice President for Education at the Kennedy Center for the Performing Arts
Sherman Whites, Director of Education Initiatives at the Ewing Marion Kauffman Foundation