Frost Fest to return for fourth frothy year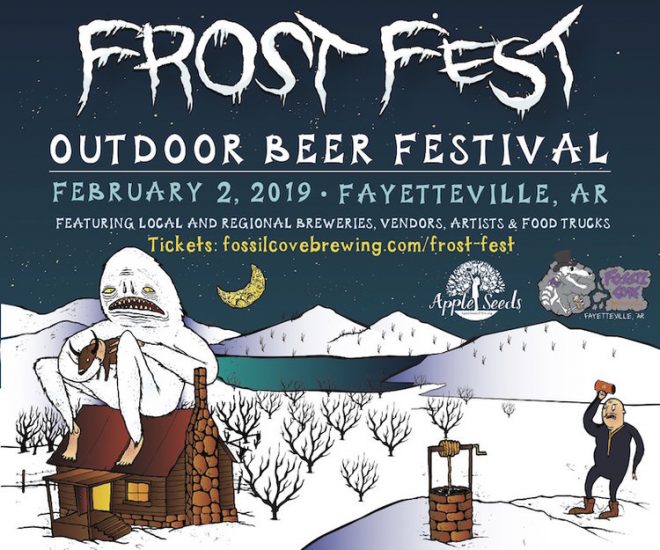 Fayetteville-based Fossil Cove Brewing Co. and Apple Seeds Inc. is back again next Saturday for another frosty and frothy year at the Washington County Fairgrounds with the premier beer festival Frost Fest.
The minds behind Frost Fest have invited the most amount of breweries so far in the festival's history, including breweries that don't distribute regionally. This year's festival features more than 40 breweries from across the region, and each brewery in attendance will have a representative to provide first-hand knowledge of their products for a specialized beer-drinking experience, according to a press release.
Although the annual group bike ride isn't happening this year like in the past, the infamous Yeti will be running around Frost Fest. Anyone who snaps a picture with the Yeti and posts it with #frostfestar will be entered to win a special Frost Fest prize package.
Live music at the event will include Monk Is King, Vintage Pistol, and Groovement, according to a press release. Elijah Mathis will conduct a live art demonstration, and a variety of food trucks will be on the fairgrounds to provide those imbibing with a little something tasty.
For the fourth year in a row, Fossil Cove is partnering with Fayetteville-based nonprofit Apple Seeds Inc. Apple Seeds' mission is to inspire healthy living through garden-based education, excite children about produce, and implement educational programs at their farm and area schools. Last year, the festival raised $10,000 for local nonprofits, according to the Fossil Cove website.
Fossil Cove manager and festival coordinator Andrew Blann recommends gloves, early arrival, and social media @fossilcovebrewing for the digital guide the day before the festival.
Frost Fest is set for 2 to 7 p.m. Feb. 2 at 2463 N. McConnell Ave. A ticket for the festival gets you a commemorative taster glass for 2 ounce samples, as well as access to all attending breweries, vendors, and food trucks (food is sold separately). The event is 21 and up, and tickets sell out fast.  For tickets and other information, check out the Fossil Cove website and Facebook page.
BREWERY LINEUP 2019:
4 By 4 Brewing Company
405 Brewing Co.
Apple Blossom Brewing Company
Bentonville Brewing Company
Bike Rack Brewing Co
Black Apple Crossing
Blue Owl Brewing
Brick & Forge Brew Works – Harrison
Bubba Brew's Brewing Company
Central Standard Brewing
Columbus House Brewery
Core of Arkansas
Crane Brewing Company
Crisis Brewing Company
Dead Armadillo Brewery
Double Shift Brewing Company
Downstream Hotel & Resort-Brewery
Earthbound Beer
Flyway Brewing
Fossil Cove Brewing Co.
Hawk Moth Brewing
High Cotton Brewing Co.
Ivory Bill Brewing
The JBGB
Lagunitas Brewing Co
Lazy Magnolia Brewery
The Leaky Roof Meadery
Lost Forty Brewing
Lost Signal Brewing Company
The Modern Brewery
Mother's Brewing Company
Oak Highlands Brewery
Ozark Beer Company
Peticolas Brewing Company
Public House Brewing Company: Rolla
Rebel Kettle Brewing Co.
Rendezvous Junction Brewing
Stone's Throw Brewing
Six Mile Brewery
Tie & Timber Beer Co.
Tiny Tim's Pizza and West Mountain Brewing Company
Urban Chestnut Brewing Company
Vino's Pizza-Pub-Brewery
Wichita Brewing Co & Pizzeria