Fayetteville's FEAST Gallery to host inaugural show "Cowboy"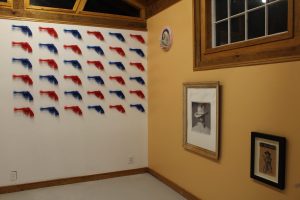 WORDS / ASHTON ELEY
Fayetteville residents can indulge their senses with the expansive art of aesthetics, craft, curation, food, sound, experience and discussion at the newly opened FEAST Gallery.
The contemporary art gallery is now housed in its newly renovated location at 1495 S. Finger Road, which was previously occupied by Bottle Rocket Gallery.
FEAST will host its inaugural opening reception at 7 p.m. Jan. 21. with the show Cowboy. There will be art, food, and drink until 10 p.m.
The gallery will bring new perspectives to the city's art scene by mainly focus on group shows featuring artists from around the country and globe, said Danny Baskin, the gallery's co-director with Ashley Byers.
This first show focuses "the cowboy," both idealized and demonized in American culture, Baskin said. With its complicated and rich history, Cowboys relates themes of gender, race, violence, pop culture, landscape and childhood. The show's artworks and artifacts will depict varying approaches to these themes.
The show will feature the works of distinguished artists Jack Balas, June Glasson, Fort Guerin, David L. Jones, Blake Little, Katie Piatt, Amy Santoferraro, W. Tucker and Yoram Wolberger.
Cowboy will remain open until Feb. 18 when FEAST will throw a closing reception. Gallery viewings outside of the receptions are by appointment only.
Anyone wishing to make an appointment can reach FEAST by visiting their website at www.feastfeastfeast.com, or emailing contact (at) feastfeastfeast (dot) com.