A Quiet Roar: Collage Artist Meikel Church Gains International Recognition for Work That Is Refined Yet Lionhearted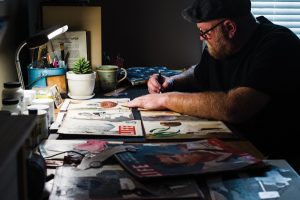 WORDS / STACEY BOWERS
PHOTO / HEATHER CANTERBURY
"Collage is such an introverted art form," says Meikel Church, a quiet, shy artist whose work speaks volumes. Church articulates carefully and softly, and I can't help but see that as a reflection of the thoughtful process he undertakes to produce the subtle, intelligent, finely assembled pieces that have earned him international recognition.
Church's work has been included in juried exhibitions in New York and Greece, and he has been picked for national and international collage publications, including the Obscure Magazine, A Minor, and Kolaj, in which he has been featured multiple times.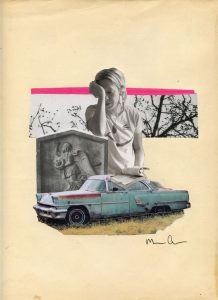 For having so many accolades, Church is relatively new to creating art. After burning out on college he entered a five-year career in the military, which took him to Europe, where he says spending time in Parisian and German museums and art houses may have sparked his interest in art. When he returned to Arkansas, he held careers in retail management and book fair management. He didn't start experimenting with assemblage until 2013, when he was inspired by other collage artists, including his partner (now fiancé) Vincent Griffin, to whom he attributes much of his success. "Vince plays such an important role in this for me. I'm not someone who wants to be out in front of everyone," Church says. Griffin encouraged Church to share his work on social media, where it was well-received. This gave him motivation to keep going.
In spring of 2013 Satellite, an online publication focused on fashion, design and culture, asked to print his work. "I think at that point a lightbulb went off in my head," Church says. Before that, he hadn't really considered collectors outside of his friends and family being interested in him. The following year, he was contacted by a fellow artist, V.L. Cox, who wished to purchase a piece from him.
"Before we had even met, I noticed his work," Cox says. "It was bold, sincere, and had a powerful message." Church says he had no idea who Cox, a renowned North Little Rock-based artist whose multimedia works addressing social injustice have gained national attention, was when she contacted him, but the two formed a fast friendship and began working together artistically.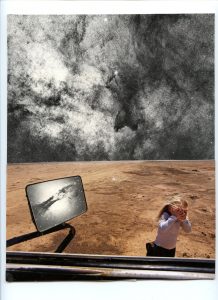 When Cox began working on her installation End Hate, a series of painted doors labeled with phrases meant to draw attention to discrimination, she says she knew she wanted Church to be her right hand-man. He helped her set up the doors of the steps at the Arkansas State Capitol and later at the Lincoln Memorial in Washington, D.C.
When asked if he ever felt afraid while assisting with End Hate, which was introduced while tensions over the commonly labeled "anti-gay bill" SB 202 and the legalization of gay marriage were high in the red state of Arkansas, Church says he couldn't recall ever being really afraid. He does remember a moment when the "LGBT" door fell. "It was so loud. We thought it was gunshots, and V.L. hit the ground," he says, snickering, and suggests that he was perhaps too oblivious to get down.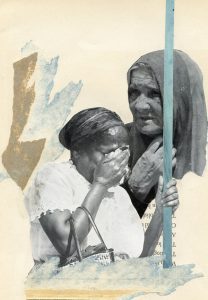 Church and Cox went on to host A Murder of Crows, a joint exhibition which showcased more of Cox's End Hate series alongside 15 of Church's collages. It was intended to last for one week but high interest caused it to continue for a full month. When asked about the socially conscious themes in his work, Church says he didn't always think of himself as an activist but recognizes the trend of his work to approach topics of injustice. He says he sometimes worries about offending viewers, but is less worried about it than he used to be, recalling something Cox said to him about the matter: "If you make those pieces to elicit a certain response, you've succeeded."
Church is humble when speaking about himself and his successes, but Cox is decided in her praises. "He's a rare human being, an incredible artist, a fierce advocate for justice, and has a gentle soul that roars."
VISIT:  MEIKELCHURCHCOLLAGE.COM
INSTAGRAM:  @MIKESTAGRAM