Fayetteville Roots Fest Goes Out with a Bang
WORDS / JULIA TRUPP
PHOTOS / MEREDITH MASHBURN
The pluck of each banjo string tugged at its cousins in the hearts of the crowd, and the passion of each player inspired the harmonies around them. But they weren't standing in the rustling trees of the Ozark Mountains listening to the sounds of nature like their grandfathers used to. Instead, artists, musicians, and audience members joined together inside the Fayetteville Town Center for the Fayetteville Roots Festival, convincing their audience to "listen here" and uniting a local culture with those who know just what it means to live in the heart of the natural state and get back to their roots.
Late night events kept festival-goers around well into the night throughout the weekend, with a major host being Stage Eighteen off Center Street. The Ozark Highballers kicked off the night and welcomed audience members to swing their partners around the art gallery and performance space while others sipped local beers and mules from the bar. The air was alive with folky Americana music as people made their way into Stage Eighteen from the day's festivities. After the group signed off with one last song, guests were invited to another treat.
Local musician Willi Carlisle and director Joseph Fletcher returned from a three-month-long national tour for "There Ain't No More: Death of a Folksinger" – they even made it into a Washington Post write-up – to perform once again in front of their home crowd, and for free.
"There Ain't No More" is based on American folk music legends, and the story transports its audience into the world of Whirly, a dying folksinger who must redeem himself through his last performance in front of a live audience. He must confront the life he has led and what is to come after his "last waltz is called," according to the show's press release.
Carlisle uses five different instruments, puppetry, a real crankie, and the occasional dirty joke or two to bring his audience along for the ride through the past 60 years of Whirly's life, including war, political activism, and folk history, all in one hour.
After performing a few previews last spring, Carlisle and Fletcher took the show on the road, which landed them nationally acclaimed reviews and accolades, including "Best Show" and "Patron's Pick" at the Orlando Fringe Fest, "Venue Pick" at the Tampa Fringe Fest, "Patron's Pick," and excellences in acting and writing at PortFringe, five stars at Kansas City Applauds and Minnesota Reviewers, and "Best of Fringe" in the Twin Cities Arts Reader.
By the end of Whirly's time, there wasn't a dry eye in the house. As we said back in April, this isn't a show any Ozarkian should miss, so if you haven't gotten a chance to see it yet, Carlisle, Whirly, and everything in-between will be back at Stage Eighteen at 7:45 p.m. Sept. 2.
The night ended on a lovely, reminiscent note, but it wasn't the end of Roots itself. The next night gave Fayetteville some more good vibes to welcome in the fall.
Smokey and the Mirror and The Honey Dewdrops, with special guests Joe Purdy and Shannon Wurst, collaborated on stage and brought the mountains indoors. Instead of sitting near the main stage, it was almost as if the audience was gathered around the fireplace and stove in an old log cabin, cherishing the time together. The hum of the fiddle, the strum of the guitar, and the accompanying harmonizing vocals evoked a feeling that echoed the closeness of family.
Each musician played their own instruments, but when it came time to sing about eased pain, resting, and loving, they hovered around one microphone – a true symbol of bits of life coming together to create beauty.
John Fulbright took over the headlining spot after news broke that Rodney Crowell became ill and couldn't perform. And boy, did he bring a show. He brought a rock-country flair to the end of the night and sang about general anxiety, love, and liquor: "I drink this gin, and I take these pills just because I don't have social skills." His cacophony of instruments and simple storytelling through his lyrics made his music so relatable it felt like we could all hop on stage and party with him.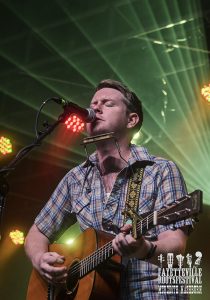 When Oklahoma-based Fulbright brought up Arkansas state liquor laws, he told the audience someone had tipped him off about a liquor store 10 miles out of town that sold alcohol on Sundays. "I've never felt like such an outlaw," he said with a grin before starting his next song.
When it came to the food at the festival, a pop-up bistro tent took up the space in front of the town center, complete with bars with themed cocktails and festival-sponsor Ozark Beer Co. The pulled pork nachos had a melted monterey-jack cheese that made my mouth water with each bite, washed down beautifully with an Ozark IPA.
Pure Joy Creamery had a table inside, and they featured flavors like maple bourbon, rosemary peach, lavender, and one called Happy Goat, which was an ice cream made with sweet goat cheese. I'm not joking when I say it brought actual tears to my eyes it was so tasty, especially with the sweet bourbon caramel sauce that came with it.
When we were done with any consumable product, we couldn't just throw it away in an average trash can. Instead, the festival set up composting stations. The usual trash cans were covered, and composting bags and recycling tables were set up for festival-goers to give back to its natural state.
Overall, the last festival nights helped close out another great year of the Fayetteville Roots Festival, and we're counting down the days until next year's magical event… And another taste of that Happy Goat ice cream.