Fayetteville Gallery Celebrates Rebranding at September Exhibition Opening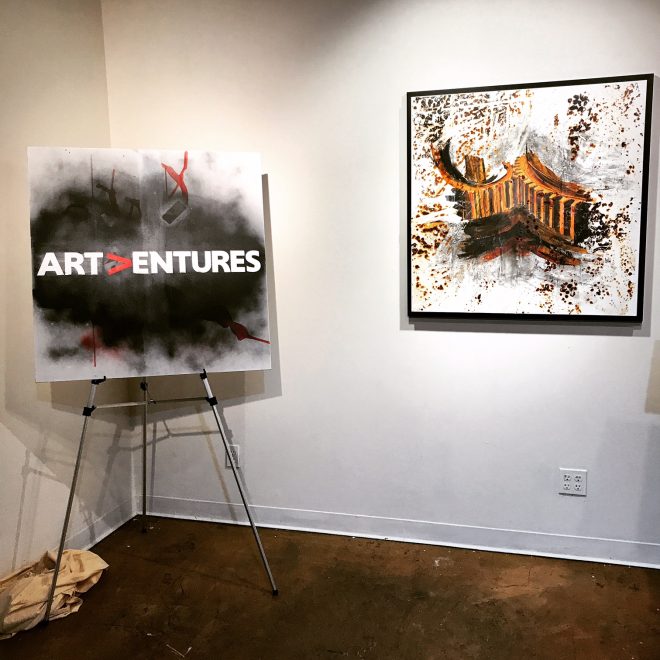 A letter from Sharon Killian, of Art Ventures, formerly the Fayetteville Underground
To our cherished community,
The Fayetteville Underground  has been an important element in the Fayetteville and Northwest Arkansas art community for nearly a decade. Countless exhibits have inspired, encouraged, and challenged patrons young and old. We have high hopes and expectations for the contributions this organization  will continue  to provide to our region in the years to come.
In an effort to refresh our image in the community and better position our organization for fundraising opportunities since earning our 501c3 status in 2014, we have pursued a new name and branding elements.
Our new name will be Art Ventures, effective this month. Along with the new name and branding, we will also be working on a new website to better showcase our artists and events. We hope the new name accurately reflects what we do best and resonates with all of our stakeholders: artists, community, patrons, and donors interested in the arts.
We remain committed to supporting artists' highest-quality work, promoting the visual arts in Northwest Arkansas, and encouraging education and engagement in the arts, and we believe that our new name will better suit our dynamic, forward-looking organization. The name recalls our current tagline, "Come Venture Underground," which has served as an invitation for the community to experience art and for artists to experiment and explore. "Art Ventures" is a more succinct and inviting expression of that same commitment to creative daring.
The rebranding was announced on September 7 at our First Thursday gallery event which also opened exhibits featuring the work of Robyn Horn, the Rashad Delph collection, and our represented artists. A private celebration, attended by representatives from the City of Fayetteville, Experience Fayetteville, TheatreSquared, the University of Arkansas Fulbright College of Arts and Sciences and Crystal Bridges Museum of American Art, preceded the public opening reception. We are proud to be part of this robust community of organizations supporting the arts in Northwest Arkansas.
As the board looks forward to 2018, we welcome community feedback on the direction of the organization and how it can more effectively serve Northwest Arkansas and Art for Everyone.
Sharon Killian
Board President
Art Ventures Gallery