FACE TO FACE: NWA/LR to open at 211 South in February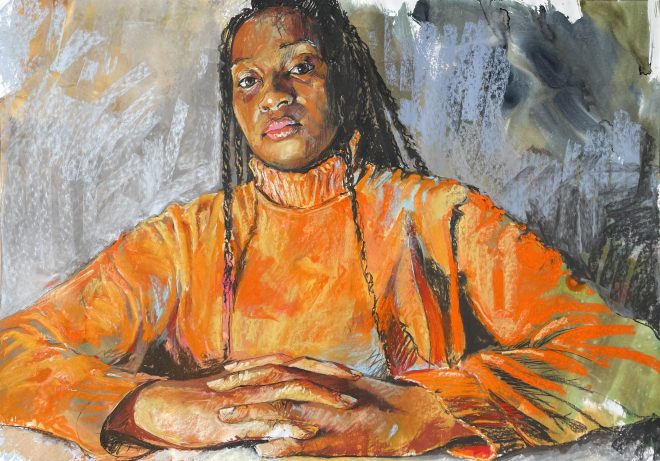 211 South is pleased to present FACE TO FACE: NWA/LR, which features paintings made in 2021 by Ray Allen Parker and Jason McCann. Curated by Kellie Lehr, the exhibition will be free and open to the public from February 4th through April 23rd, 2022. 
Bringing together larger-than-life oil portraits of Northwest Arkansas residents by Ray Allen Parker and expressive watercolor and pastel portraits of students at Little Rock Central High School by Jason McCann, this exhibition features new paintings made in 2021. This past year has impacted us all, some more than others. Perhaps now, after so much time spent apart from each other and strained due to the pandemic, we can more fully appreciate a detailed, expressive, and close-up look at our all too humanness. 
Ray Allen Parker grew up in rural Egypt, Arkansas, in the northeastern corner of that state. He earned a B.A. and M.A. in English from the University of Arkansas, where he took his first painting class. Following a three-decade career in retail communications and advertising, he returned to his lifelong interest in portrait and figure painting. Ray's solo exhibition Altarpieces and Icons took place in 2021 at the Windgate Museum of Art at Hendrix College in Conway, AR. Ray lives and works in Fayetteville, Arkansas, with his wife Mary Jean. 
Jason McCann attended school at Arkansas State University in Jonesboro and the University of Central Arkansas, where he received his Bachelor of Arts in Education in 2001. In 2007, he completed his Master of Arts degree in Painting and Drawing at the University of Arkansas at Little Rock. Since 1995, his artwork has been displayed in numerous shows and exhibitions across the southeast United States. In addition, he teaches art at Little Rock Central High School, at Arkansas Governor's School, and in group lessons from his studio space. He and his wife, Melissa, currently reside in Maumelle, AR with their three children, Reilly, Leah, and Aiden. 
211 South is a contemporary art gallery located at 211 South Main Street in Bentonville, AR, within the Engel & Völkers NWA shop. Gallery hours are Monday through Friday, 9 am to 5 pm, and by appointment. Free street parking is available. For more information, please call (479) 268-5170 or https://nwa.evrealestate.com/211-South .