Community-based and DIY-driven event supports local artists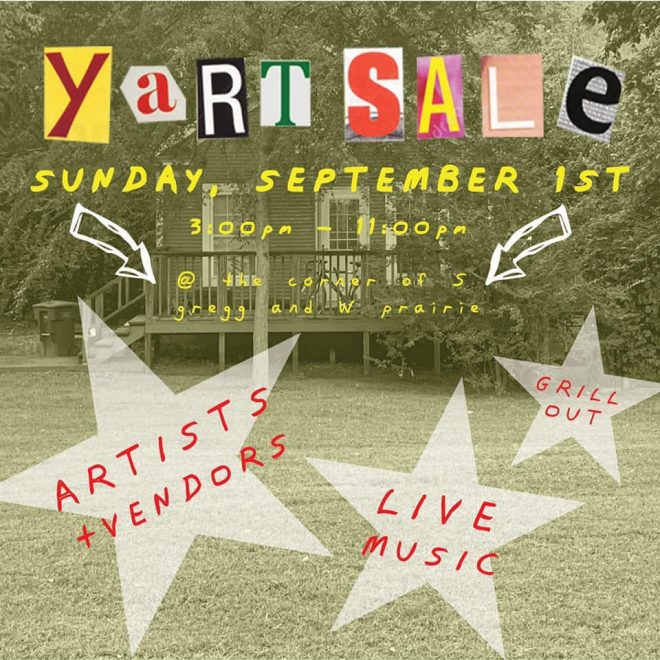 YART SALE is a community-based event that will channel love for art, music, and people into a recurring event series that combines the communal gathering of yard sales with the importance of art in local communities, according to the organizers of the event.
"Our goal is to foster more collaboration and communication within our community through
various events and gatherings by bringing together artists, musicians, and creatives alike, in our
very own backyards," says Vaughn Mims, one of the event organizers. "Our hope is to create opportunity for creatives and community members to showcase and share their passions in an accessible, diverse, and open-minded environment."
The first YART SALE event is set for 3 to 11 p.m. Sunday, Sept. 1 at the corner of W Prairie St and S Gregg Ave behind the Walmart Neighborhood Market. Artists and other vendors will be selling and showcasing their work through the end of the evening. Artists include sculptors, collage artists, painters, designers, jewelry makers, photographers, and digital artists, according to a press release. There will be over half a dozen musicians performing throughout the day, ranging from Lo-fi and soundscape to punk, country, and jam band.
This event is meant for anyone and everyone to attend. IDs will be required if over 21. There
will be grilling starting at 5 p.m., along with refreshments provided by Arsaga's. Wicked Rose Screen
Printing Co. and Raiz Apparel will conduct live screenprinting, as well as selling event
merchandise and streetwear apparel. There will also be a communal collage station for those
feeling inspired to create and paste, according to a press release.
For further information, follow:
Instagram: @yartsalefay
Facebook: YART SALE