A FACE IN THE CROWD: If Ashlie Atkinson looks familiar, there's a reason for it. The prolific character actor and Little Rock native chats about her career trajectory from Hendrix College to working with Spike Lee.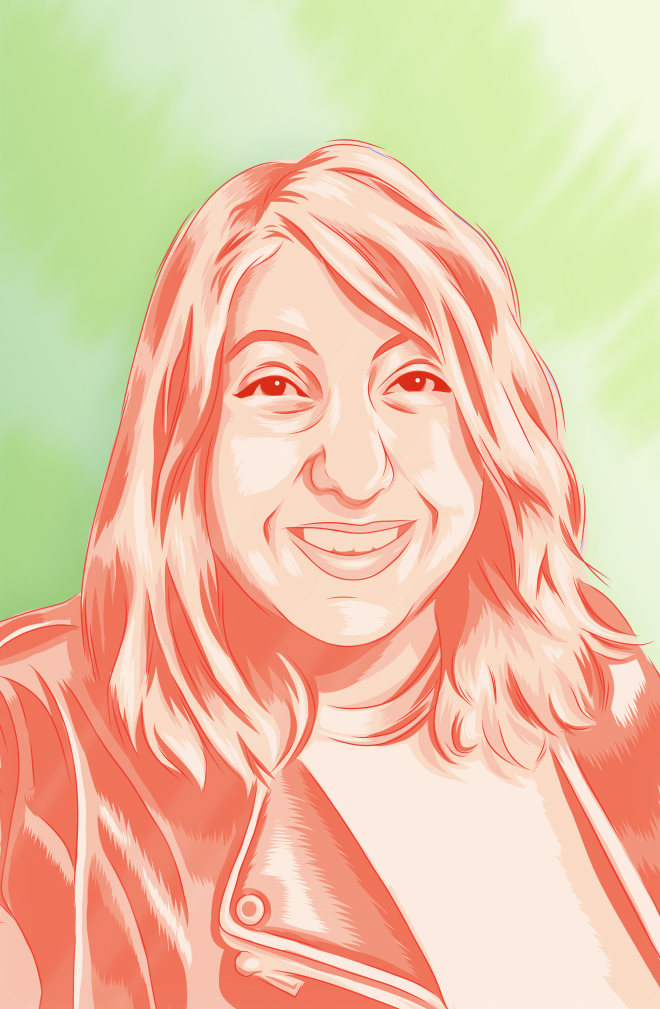 WORDS / KODY FORD
ILLUSTRATION / PHILLIP REX HUDDLESTON 
Ashlie Atkinson saw an opening. During her second year at New York City's Neighborhood Playhouse School of Theatre, she received her headshot. And along the wall, next to portraits of alums like Jeff Goldblum and Mary Steenburgen, there was an opening. It was just above a bench, and some people might have disregarded it, seeing only a spot that would be partially obscured by anyone sitting on the bench. Atkinson saw an opportunity, and she seized it.
"I threw [my headshot] into that little spot, like so cheeky, just absolutely as a joke," she said. "They took that wall down while they were remodeling, but when they put it back up, they actually kept my headshot on it. And I always feel like there's a little ticking clock on the back of it. It's like if you don't pull something off soon, we're yanking the shot."
But Atkinson has been pulling it off, one role at a time. While she might not be a household name like some of the others on that wall, she's got a face you'll know. You've seen her before. Maybe it was as the villainous Janice on Mr. Robot, Amanda in And Just Like That or Rochelle Applebaum in The Wolf of Wall Street. Since she moved to NYC 20 years ago, Atkinson has slowly but surely built a prolific career as a character actor. But her career as a character actor almost never happened.
After graduating from Pulaski Academy in the '90s, Atkinson enrolled in Barnard College at Columbia University in NYC to study philosophy and political science. However, it wasn't the dream scenario of chasing your dreams in the big city. She suffered from undiagnosed depression and ADHD, which left her teetering on burnout after a year and a half. At the urging of a provost at Columbia, she moved back to Arkansas and enrolled at Hendrix College where she continued her line of study in philosophy and poli sci. Although she acted in plays when she was younger, she didn't immediately dive into the theatre scene at Hendrix. While she struggled with tests and papers, she became enamored with how passionate her theatre friends were about reading lines or building sets. Nothing they did seemed like homework to her.
While Atkinson fretted over a future, late one night a friend told her, "I just think that a life in the service of art is a good life and that's really enough for me." That simple statement resonated with her and changed the trajectory of her life. She switched her major to theatre. Her first play at Hendrix was Pride's Crossing by Tina Howe. During her senior year, Atkinson applied to the Playhouse at the urging of her Pride's Crossing co-star Todd McCullough, who was in his first year at the NYC-based program. She was accepted and returned to Manhattan in the fall of 2001.
"[Studying at the Playhouse] was an incredible experience," she said. "And that was really where I learned how to make things happen in terms of how to self-generate for the work, to not just wait for it to come to me, to hold myself to a standard of making things happen, but also trusting that whatever is there is enough if it's truthful and rooted in the reality of doing that, even if it feels wrong or it feels weird."
After finishing her time at the Playhouse, she secured a manager and booked small roles on Law & Order and Rescue Me, but got her big break in the play Fat Pig by Neil LaBute, starring alongside Jeremy Piven, Kerri Russell and Andrew McCarthy. Like many of LaBute's plays, this one also touched upon controversial themes—in this case, anti-fat bias.
"I was a year out of acting school when I got [that role]," said Atkinson. "I just didn't know what I was in for. And there was just so much press. The actors I got to perform with, the caliber of them with my little 26-year-old ass straight outta school. It just boggles the mind—the luck of it and the chance that people took on me."
Since Fat Pig, Atkinson has gone on to star in many TV shows and films, includingSpike Lee's Inside Man and BlacKkKlansman. She describes Lee as an incredibly loyal and kind director to work with. Lee called her in to audition for BlacKkKlansman, specifically for the role of Connie Kendrickson, a housewife who'd serve you up a plate of fresh-baked cookies with a side of unbridled bigotry. Given the nature of the character, the audition was quite frightening, she said—Lee gave her a one-sentence prompt and asked her to improvise, to crank the racism up as much as possible.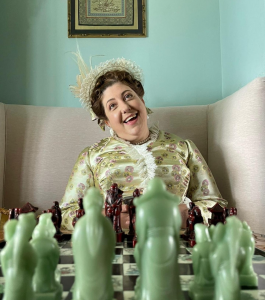 "I trust Spike implicitly. And that was really important because what I don't wanna do is apologize with my body for the horrific things my mouth is saying. . . . So, I have to take myself out and say, if I can be of service in this moment by being this person then I'm gonna. My feelings and my need to be one of the good white people—it becomes a performative problem if I'm trying to do this and actually be part of the process of helping tell Black American stories."
Her portrayal of Kendrickson brought her praise. One reviewer on Mediaversity said, "It's on the strength of Atkinson's own understanding about white women's complicity more than Lee's script that elevates Kendrickson. She could have been a preachy character. But Atkinson portrays her as a sad, believable portrayal of the undercover sleeper cell. She represents the Permit Patties of the world who bake cookies for new neighbors and smiles in the faces of people of color, all the while clenching the mace in her purse."
While Atkinson is a far cry from Kendrickson, the performance is a testament to her range as an actor. She has carved out a career for herself that provides steady work and the opportunity to collaborate with a wide range of creatives in the industry. Over the last few years, she has played roles from Clinton accuser Juanita Broaddrick in American Crime Story: Impeachment to New York high society maven Mamie Fish in The Gilded Age. And if you haven't caught her in those, stay tuned—she's bound to pop up in something new soon.

When thinking back on those words she heard from her friend one night at Hendrix long ago, Atkinson said, "A life in the service of art is a good life. And it's an incredible way to get to operate in the world and to pay my rent. It's so awesome."
IG / @ashlie_atkinson
TW / @ashlieatkinson