Artist's Laboratory Theatre and Arts Center of the Ozarks team up for "La Gran Posada"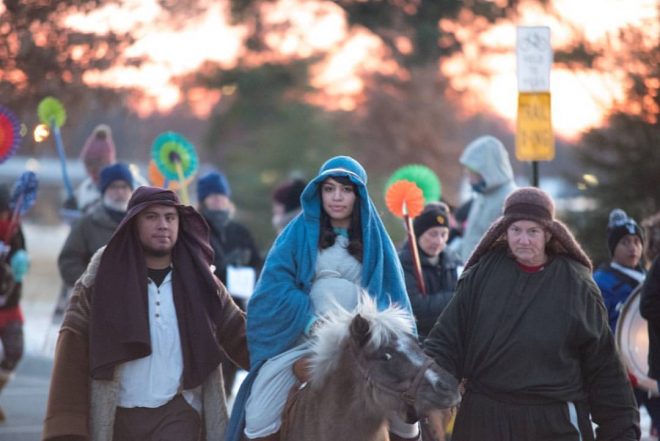 The Artist's Laboratory Theatre in partnership with the Arts Center of the Ozarks will present La Gran Posada, a community holiday performance and celebration, on Dec. 17. This Downtown Springdale event offers Northwest Arkansas neighbors an opportunity to participate in a unique and culturally meaningful holiday tradition. With over 200 in attendance last year, La Gran Posada is a bilingual telling of the traditional Las Posadas story of Joseph and Mary on their search for lodging in Bethlehem.
The event kicks off with the Posada story and community procession starting at Shiloh Square and ending at the Arts Center of the Ozarks. Following the Posada there will be a series of short performances at The Arts Center of the Ozarks. These include the world premiere of
Sammi Saves the World, a Pastorela play, by Marisol L. Torres and dance performances from the Ballet Folklórico, Chinelos Morelenses Unidos, and Danza Azteca. In addition traditional holiday snacks, drinks, and piñata will be provided for everyone to enjoy.
La Gran Posada will begin at 5:00 pm, so audience members should arrive at 4:30 pm at Shiloh Square, 106 W Emma Ave, to join the procession. Late comers are welcome, but should join at the Arts Center of the Ozarks, 214 Main Street. Part of the parking lot at Arts Center of the Ozarks will be available for parking. About 25% of the spaces will be unavailable. Audience members are encouraged to find parking around Downtown Springdale. Participants should dress for cold weather. This event is free and open to the public.
Co-Presented by Arts Center of the Ozarks and Artist's Laboratory Theatre, with community partners;  Latin Art Organization of Arkansas, Jose Esparza and Associates, Downtown Springdale Alliance, Northwest Arkansas Workers' Justice Center, and Stitches.
About La Gran Posada
La Gran Posada tells the story of the Pilgrimage of Mary and Joseph to Bethlehem, through nine nights of christmas processions. It is celebrated December 16-25 throughout Latin America, though chiefly in Mexico. During this ritual procession the participants typically split into two groups, Peregrinos or Pilgrims and Hosteleros or Innkeepers. These groups then sing a call and response song, "Cancion para Pedir Posada", acting out the story. Our performance is a slightly more theatrical take on this tradition.  Together the crowd will walk down historic Emma Street as the actors seek lodging at various downtown Springdale businesses while experiencing song and story as part of an immersive theatre performance.
Las Posadas has been a tradition in Mexico for over 400 years. Its roots can be traced back to 11th century European bible plays, Aztec winter solstice festivals, and two Catholic saints. Eventually these plays lost favor with the Church as they became popularized with the addition of folk music and other non-religious elements, and were banned only to be re-introduced in the sixteenth century as a new kind of religious ceremony to accompany the Christmas holiday. The celebration has since been adapted to be celebrated by many cultures and religious denominations.
About The Artist's Laboratory Theatre
The Artist's Laboratory Theatre creates unique performance experiences in intimate and surprising places. Audience is community, and performances are collective experiences, and our work is always focused on how to provide new ways to encounter each other. Through original plays produced by, for, and with communities in Northwest Arkansas, in addition to our community outreach, all that we do is steeped in fostering justice and radical compassion in the heart of South Fayetteville and in Northwest Arkansas at large.
About Arts Center of the Ozarks
Located in Downtown Springdale, Arkansas, Arts Center of the Ozarks has been providing and making arts for the last 50 years.  Arts Center of the Ozarks has introduced thousands of people to live performance. Many others have been inspired by art classes, performed in plays, and shared their art on the gallery walls. This non-profit arts organization offers a diverse range of programming, a home to artists and arts organizations to showcase their work, and engages people of every age and background to create a vibrant and cohesive community.