Art Walk in Downtown Springdale expanding for July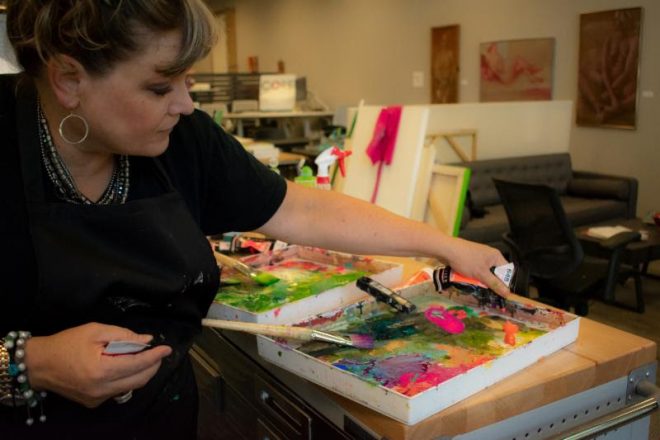 The Art Walk in 

Downtown Springdale will feature more artists than ever before. On 
July 19 from 5pm to 9pm

, the works of over 29 artists will be featured throughout four locations. Throughout the Art Walk there will be a live mural painting, demonstrations, discounts, contests, a fashion pop up shop, open houses, and more. The art walk is free and open to the public.
The Art Walk takes place every third 
Thursday
 in varied location throughout downtown Springdale. The featured locations and artist of the 
July 19th
 Art Walk are listed below.
1 Seventeen Create
The shared studio space will be open to the public with open houses, special discounts, and a live mural painting. Learn more about the artists that will be at 1 Seventeen Create below.
Stacy Spangler is a self-taught mixed media artist living in Fayetteville. She loves expressing herself with bold color, heavy texture, and collage elements. She will be offering specials on art prints and 10% off any original art purchase.
SpellbinerFX
 will be holding a live demonstration as they work on 2 Twi-Leks, creatures from Star Wars, and a drag queen costume. The finished Twi-Leks will be taking the stage 
July 21st
 at Shimmyfest in Springdale and the drag queen costume can be seen at the Miss Gay Arkansas Competition in Little Rock.
Shawna Elliott is, nationally selling artist and author of "Be A Creative Badass: 52 Whole-Life Activities to Boost Your Creativity" will be demonstrating alcohol ink painting techniques.  Shawna will be offering a 15% discount on purchases of original artwork and holding a drawing for a free custom pet portrait.
Eve Smith is a multi-disciplined figurative artist whose work features the female body in stereotype situations juxtaposed by gold leaf, watercolor, and floral paper brought together in traditional formats. She will be offering a $5 discount on all prints.
Octavio Logo is an artist whose most recent exhibition, Exodus, focused on immigration and its consequences on identity.
Scarlett Sims' work seeks the truth behind things: the fleeting expressions, the colors and the light. "I want to capture more than the exact image of a person. To that end, I use multiple media to focus on an individual truth within each portrait I do."
Ruth Lawlor creates non-representational works focusing on the challenge of communicating ideas without representing images. She works in two mediums: bold, large-scale acrylic paintings and abstract mixed media on paper.
Core Architecture (

4pm to 6pm

) 
will be showing the latest masterplans for the Parsons Stadium expansion, home of the Rodeo of the Ozarks, along with the Jones Center's new west entry. Compare and contrast the facades of Emma Street then and now through historical photos and the architectural drawings that captured what you see today.
The Gemini
The Gemini is the multi-use studio of Amber Perrodin, a mixed media artist. Her work features the quiet, poetic nature of combining muted colors, papers, discarded prints, and paint on birch panels.
Downtown Springdale Farmers Market- 

4pm to 8pm
The Downtown Springdale Farmers Market will hold POP Club and host art themed vendors in addition to its produce vendors. The Power of Produce (POP) Club provides a fun opportunity for children to engage in the local food system through art. POP Club kids can earn vouchers to spend at the market, allowing them to make their own shopping decisions at the market.
Arts Center of the Ozarks
Our Natural State- Exhibit of Photography will be on display and curator Chuck Davis will be onsite for conversation and questions. How do you define the mindset, culture, and values of Arkansans? Our Natural State seeks to answer this question by exploring the historical and contemporary landscape of Arkansas residents through the work of 17 artists.