Art Ventures receives Linda C. Sheets, LTD legacy gift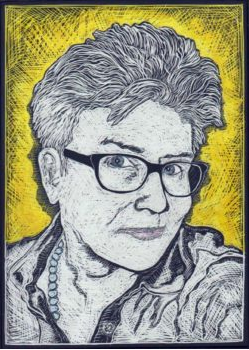 Northwest Arkansas's Art Ventures recently announced it is the recipient of a $10,000 legacy gift from the Linda C. Sheets, LTD organization.
"We receive this gift in tearful acknowledgement of Linda's loss to us, and with a commitment to continue our work to support, respect, engage, educate and promote the arts and artists in our community who, like Linda, create our sense of place," says Sharon Killian, Art Ventures board president. "Linda has left behind a loving, powerful legacy not only as a master artist whose work resonates with collectors and viewers alike, but also as a proud feminist and lesbian who lived her truth fully."
The Linda C. Sheets, LTD mission is to fulfill the wishes of scratch artist Linda Carole Sheets, who passed away Dec. 3, 2018 after a battle with cancer. The Board of Linda C. Sheets, LTD includes Brittany Phillips, Cindy Parry, and Liz Lester.
"The board has identified [Art Ventures] your organization as one whose values align with Linda's and we hope you can use the money to further your cause, support the arts and artists in our community and honor Linda Sheets and the vibrancy and love she poured into her work and her life," according to an award statement.
Sheets published two illustrated books, Dog Scratchin' and Cat Scratchin' and, as a musician, singer, and songwriter, produced her own music under the label Hot Sheets Music. One of her last projects was to work with Jordan Williams on sorting her husband, Poet Laureate Miller Williams' archives. Linda's artwork is held in multiple collections around the world, according to a press release.
Art Ventures continues its mission during the COVID-19 pandemic to offer art for everyone through virtual exhibitions and is developing an online presence for virtual programming. The online exhibitions provide a virtual walk-through with artworks curated and displayed with the care and planning given to our physical exhibitions.
As Art Ventures' first virtual exhibition, Re-Vision: A Modernist Approach features three artists from the Middle Eastern diaspora – Moh'd Bilbeisi, D'Zart, and Behnaz Sohrabian.
Re-Vision:  A Modernist Approach can be viewed on the Art Ventures website at artventures-nwa.org.