Second annual Green Heart Festival promotes joint effort within community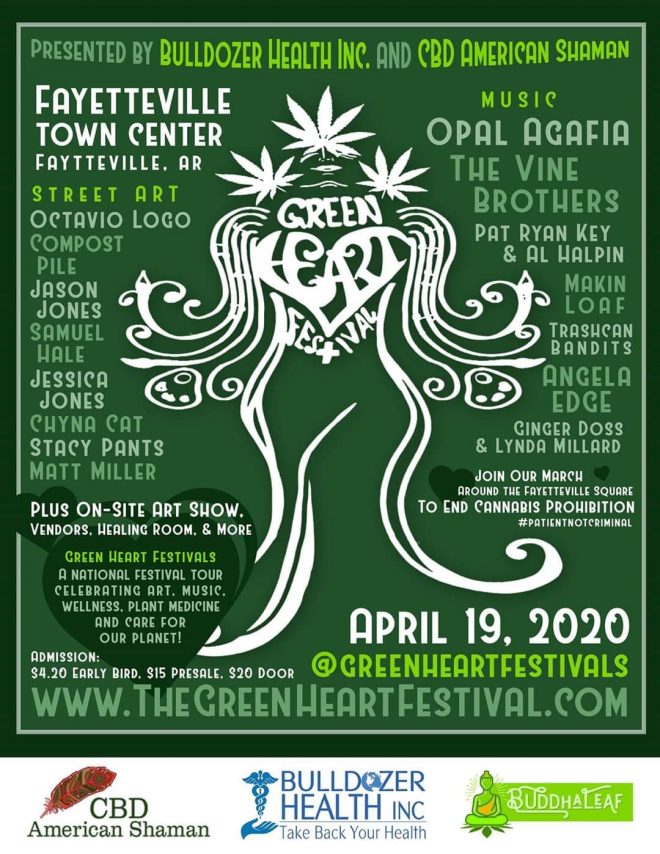 The minds behind Green Heart Festivals are hard at work for this year's celebration, transforming the previous one-day affair to a triple threat. Bulldozer Health's second annual plant medicine festival is set for April 18-20.
Last year's festival took place at Trailside Village in downtown Fayetteville, and Fayetteville Mayor Lioneld Jordan declared it "Green Heart Day." Because of all the buzz and high attendance, the committee decided to extend the festival to a three-day-long celebration in the heart of Fayetteville.
The Green Heart Festival, seeks to bring together community in celebration of music, art, health, wellness, plant medicine and sustainability, according to a press release.
The Green Heart Festival will kickoff on April 18 with panel discussions at CBD American Shaman Kava Bar and Yoga about cannabis medicine and the endocannabionoid system, CBD, plant prisoners, psychedelic medicine, plant-based diets and other subjects, according to a press release. Panel speakers include Vince Sanders, founder and CEO Of CBD American Shaman; international activist Bobby Rodrigo from the Human Solution International; Kerry Cannon, activist from Washington State and founder of Free Lance Gloor; Melissa and Gary Fults of DPEG, Arkansans for Cannabis Reform and Little Rock NORML; Chris Miles from CannacookTV; City Council Member Mark Kinion; and Wendy Love Edge, founder of Bulldozer Health, Inc.
The next day, the festival will resume at the Town Center with music by Ginger Doss and Lynda Millard, various speakers and a rally and march around the square to end cannabis prohibition. Outside, there will be food, refreshments and a children's area. The doors to the Town Center will open at 5 p.m. where festival-goers will find the Green HeART Show in the lobby, vendors, a silent auction, healing room and musical lineup including Opal Agafia and the Sweet Nothings. Music will take place from 5:30 p.m. to 1 a.m. and features The Vine Brothers, Makin Loaf, The Trashcan Bandits, Will Brand, Angela Edge and Randall Shreve. 
The festival will conclude on Green Heart Day (April 20) at 4:20 p.m. at Prairie Street Live. Randall Shreve, Will Brand, The Candid and PSS Trio will perform, and street artists such as Sam Hale, Octavio Logo, Stacy Pants, and Jessica Jones will collaborate for this year's addition of "Sprayetteville Street Art" to festivities.
"Through experience we have found that music, art, wellness, plant medicine and care for Mother Earth come from the same place in the human spirit," says Wendy Love Edge, Bulldozer Health, Inc. CEO and festival founder. "Bringing these things together for the inaugural festival last year filled our hearts … We have so much going on to educate and entertain the public over the whole weekend. I am very proud of this team of volunteers, of Fayetteville, and of the community we have been creating."
Tickets are onsale at the Green Heart Festival website for $20. Door price will be $25. Keep up with event happenings at the Facebook page.