The White Water Tavern's annual Holiday Hangout begins this weekend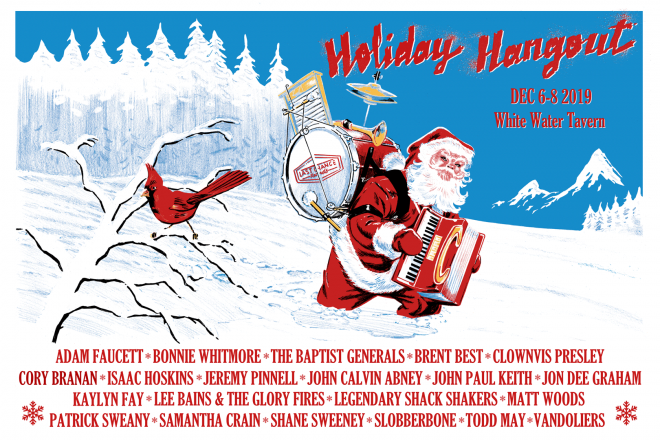 WORDS / CHRISTOPHER BEAUMONT
The impetus for The White Water Tavern's "Holiday Hangout" began as a birthday celebration for their best friend, Travis Hill, who owns and operates the one-of-a-kind Last Chance Records label in Little Rock. Hill released stellar records from artists Adam Faucett, John Moreland, John Paul Keith, and many more. The first official Holiday Hangout took place in 2010 and occurs the first weekend of December.
"We are lucky to have friends and music fans travel to Little Rock every year from all across the country and from across the sea," says Matt White, owner of The White Water Tavern. "It kind of feels like a family reunion. Three nights of really great music. On the Sunday of the festival we always host Breakfast, Books, and Booze. We serve brunch starting at noon and transform our stage into a large alternative book and zine sale hosted by Mary Chamberlain of Tree of Knowledge book distro. Then later that evening we turn the platform in the back of the room into an acoustic stage with artists performing back there from 5 p.m. well into the night."
With over 20 artists booked this year, the line-up is sure to entertain. As one example, White says, "Legendary Shack Shakers are one of the world's great live bands. Patrick Sweany is bringing his band over from Nashville. Vandoliers are coming up from Fort Worth. Lee Bains and the Glory Fires are incendiary punk rock and roll out of Birmingham. Kayln Fay is a badass songwriter out of Tulsa. The great Adam Faucett will be playing his first show back after recovering from throat surgery the last several months. The list goes on and on."
Confirmed Artists Include:

Adam Faucett
Bonnie Whitmore
The Baptist Generals 
Brent Best 
Clownvis Presley 
Isaac Hoskins 
Jeremy Pinnell 
John Calvin Abney 
John Paul Keith 
Jon Dee Graham 
Kaylyn Fay 
Lee Bains & The Glory Fires 
Legendary Shack Shakers 
Matt Woods 
Patrick Sweany 
Samantha Crain 
Shane Sweeney 
Slobberbone 
Todd May 
Vandoliers 
Cory Branan 
"Special Guests" and more to come! 
To Purchase Tickets, please visit Last Chance Records. The White Water Tavern is located at 2500 W 7th St, Little Rock, AR 72205. 501-375-8400. whitewaterbooking@gmail.com. Keep up with them on their website, Facebook, and Instagram @whitewatertavern