Wayne Coyne's "King's Mouth" to premiere at Arts Center of the Ozarks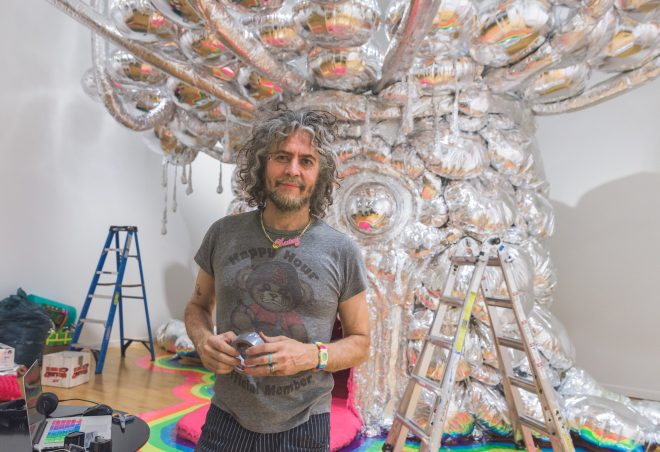 Arts Center of the Ozarks will premiere the "Kings Mouth" installation by artist and The Flaming Lips frontman Wayne Coyne on July 17. The free, multi-media installation will use texture, light and sound to create an immersive experience.
"King's Mouth" is an enormous metallic head that beckons visitors to crawl inside its foam mouth, relax and experience a cascading LED light show synchronized to exclusive Flaming Lips music. Coyne also concocted a fantastic creation myth that he illustrated with a series of drawings and multimedia collages, according to a press release.
Coyne has penned classic songs such as "Do You Realize" and "She Don't Use Jelly" and transformed Flaming Lips concerts into elaborate, visually stunning, communal spectacles. He has curated album cover art, drawn comic books, released new music on flash drives embedded in gummy skulls, directed a science-fiction Christmas film and opened a funhouse-style arts venue, The Womb, in his hometown of Oklahoma City. In 2015, Coyne made his exhibition debut at Baltimore's American Visionary Art Museum (AVAM), where "King's Mouth" proved to be one of the most popular attractions in the museum's history, according to a press release.
The experience has taken many forms over the years, curated in hotel rooms after Flaming Lips shows, between takes in recording studios, and at Coyne's home kitchen table. "King's Mouth" combines original drawings with images from magazine clippings, glitter glue and stickers from Walmart, and cut-up pieces of Flaming Lips record sleeves. Like much of Coyne's music, "they reflect a deeply rooted, punk rock sensibility infused with trippy transcendence and pulsing humanity," according to a press release.
"Wayne Coyne experiments not only with music but also participatory, immersive experiences that have deep affinities with today's sophisticated digital and reproductive technologies and the techniques we see emerging in the fine art world," says Eve Smith, ACO's director of exhibitions. "This group exhibition accentuates bringing as many media forms together as possible, of heightening the total art experience, and of getting the audience involved equally as contributors to the music, and art."
This star-studded experience doesn't stop there. Local artists Kat Wilson, Dillon Dooms, and Sasha "Tigersasha" Rayevskiy will feature original artwork as part of a supporting group exhibition.
Rayekskiy, a Russian-American artist, will feature contemporary art that explores life as an immigrant, expression of emotions and boy hood dreams.
Kat Wilson will feature her most recent series, EMOJI Paintings.
"Although the medium that's gained me national attention is photography, I've been painting under various pseudonyms (Gar, Neon, and Charro Dorado) for more than 20 years (now's the time to check your walls for those insignias)," Wilson says. "The EMOJI paintings make up a witty, high-energy portrait series that elevates visual symbols we use on a daily basis to high art. The objects themselves are already loaded with symbolic meaning, and I'm present as an artist only in the composition and the brushstrokes."
Dillon Dooms will showcase video art installation "The Twins of Nightscape." "A little over a year ago, I had this bizarre series of nights where I had vivid dreams on three consecutive nights," he says. "The art installation represented here was from the first dream. I was visited by these identical twins both drapes in dark veils with black makeup smeared on their face. As I look back on this dream I've questioned what the twins represented. The dream seems to speak to me as a warning to live life to the fullest and never take things for granted."
Exhibition hours are 2-9 p.m. Wednesdays, 2-11 p.m. Thursdays through Saturdays, and 1-7 p.m. Sundays at 115 W. Emma Avenue, Downtown Springdale through Aug. 23. Seizure Warning: The flashing lights within the installation may potentially trigger seizures for people with photosensitive epilepsy. Viewer discretion is advised.