Review: Breaker/Fixer's "A Confederate Widow in Hell"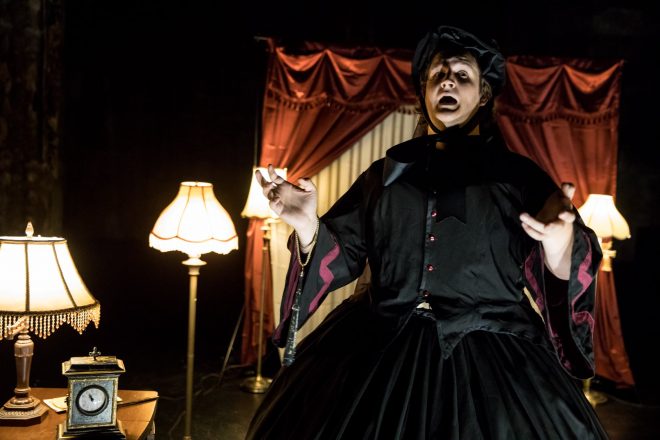 Usually, we like doing reviews for plays and productions our readers will have the chance to see fairly soon afterwards. But this one-night-only performance needs a spotlight to get us hyped for its return from its Canadian tour. Award-winning production company Breaker/Fixer debuted "A Confederate Widow in Hell" last week at Fenix Fayetteville, and it's not only filled with ghostly possessions and tongue-in-cheek humor, but by the end it leaves its audience with a call-to-action.
Set in an absurd and humorous world, "Widow" exposes lingering false narratives from the Civil War and Reconstruction by shedding light on their origins, the supported economic systems of oppression, and flashes forward to compare their present relationship to white southern identity and politics.
Two-man play "Widow," written and performed by Willi Carlisle and Joseph Fletcher, is based on primary-source research, interviews with professional Civil War reenactors, sons of Confederate veterans, and historical criticism like "Confederates in the Attic" and "The Half Has Never Been Told."  The play follows a widow who, after 150 years of waiting, has returned to her parlor to resolve her eternal fate. Armored in a full mourning gown and armed with mementos from her past life, she faces the legacy of the American South.
This production was not as musical as Breaker/Fixer's previous "There Ain't No More! Death of a Folksinger," but the musical elements included were true to the storytelling nature of the production company. "Widow's" protagonist Dolores reminisces on her past with a stationary accordion rested on a side table. The other sound effects came from the back corner of the parlor, with a towering headless parlor attendant who rang bells, beat a cajon, and at times walking towards the audience with pointed steps to eventually kneel to a projection system complete with shadow puppets to show Dolores' story.
The chemistry between Carlisle, who played Dolores, and Fletcher, who played the headless parlorman, is always admirable. It's evident their relationship over the years has only strengthened with the immense amount of time they have spent together brainstorming, interviewing, researching, writing, rehearsing, touring–it's all so clear with the energy they have onstage. Without giving away too much, at one point Dolores and the headless parlorman must work together to connect with and portray the legacy of Dolores' south (she blasts into the future to see her descendants). Carlisle's facial expressions and vocalizations with Fletcher's body movements was incredibly impressive, and something I could watch forever.
The choreography in these scenes is comical, smart, and eye-opening. By the end of the sequence, we meet Dolores' great-grandson, who seems to pray to her spirit. He says, "I don't believe in God anymore, I believe in history. And your exploitations and privilege have made the world your play thing." He goes on to say white people have not felt the disappearance of our history and in doing so, calls attention to white privilege, specifically in the south. Up until this point, we have been with Dolores and seen her point of view. Now, her legacy has become something she couldn't have imagined, causing her to wail "Stop misinterpreting me! I am not to blame," when she comes back into the play. She has seen enough, and she wants to fade away, requesting the audience stop staring and close their eyes, which isn't happening ("Mothahf***ahs! I know I am charming and hard to forget, but let me fade!")
The show ends with a haunting curse from Dolores as she makes her descent back to Hell. Literal. Goosebumps. I'll spare you the line so you can be cursed yourself. Breaker/Fixer (and guest director, the lovely Laura Shatkus) really outdid themselves with this one, so much so there were times we forgot it was merely a production and not a real visit from the other side, begging for redemption–it's real spooky.
When this show gets back from its tour and (hopefully) graces Northwest Arkansas again, do not skip out on this. Go immerse yourself for a quick hour (really, it doesn't feel like a full 60 minutes). Go, be entertained and learn something about your region's history. It'll be worth it. No more sweeping the south's history under the rug. We must embrace the past and push forward in knowledge and awareness.
"A Confederate Widow in Hell's" debut and upcoming tour was made possible by Arkansas Arts Council's Arts on Tour grant.