University of Central Arkansas to present second annual Black History Month art exhibition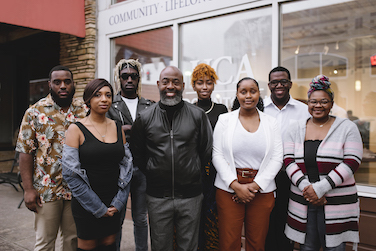 The University of Central Arkansas Division of Outreach and Community Engagement, along with the College of Fine Arts and Communication, will celebrate Black History Month with the second annual Black History Month Art Exhibition from Friday, Feb. 21 to Thursday, March 12 at UCA Downtown, located at 1105 W. Oak Street in downtown Conway.
An artists' reception is scheduled for Friday, Feb. 21, from 5 to 7 p.m., with opening remarks to begin at 5:30 p.m. The exhibition and artists' reception are free to attend and open to the public.
This exhibit will feature the artworks of 10 of UCA's student artists of black and/or African descent, while commemorating Black History Month. The exhibit will be on display from noon to 5 p.m. Monday through Friday, through March 12.
"The sentiment that when we stand tall, we stand on the shoulders of those before us best encapsulates being in this show," said featured artist Louise Mandumbwa. "It acts as a commemoration of the vibrant culture we're all a part of and celebrates the phenomenal, contemporary talents we find ourselves in the company of."
Hailing from Little Rock, senior art major Will Lee described the inspiration behind his painting, "Generations." "My art is all about storytelling and the importance of leaving a legacy. My great-grandmother was the backbone of our family, and everyone looked to her for guidance and support," he said. "This painting is all about family and the embodiment of life. The story of black families and the black community deserves to be heard year-round and not just during Black History Month."
Featured student artists and their artworks:
Alexis Claiborne, senior graphic design major, minor in film, from Nashville, Arkansas–"3 Shades of Blue," 2019
Monika Anne Cunningham, junior fine arts and marketing major from Nassau, Bahamas–"In the Middle," 2019; "Gotta Find A Piece of Mind," 2019
Trevor Dyson, junior criminology major and art minor from Dallas, Texas–"Five Heartbeats," 2019; "Untitled," sculpture, 2019; "Notorious BIG," 2019; "Persevere," 2019
Victoria Grady, graduate student earning a Master of Arts in Teaching, from Pine Bluff–"Untitled," 4×6, 2019; "Untitled," 4×6, 2019; "Details of Winter," 2019
Wesley James, senior art major from Russellville –"Change Is Inevitable," 2019; "That Power," sculpture, 2018
Will Lee, senior art major from Little Rock–"Generations," 2018; "Through the Fire," 2018
Louise Mandumbwa,* senior bachelor of fine arts candidate majoring in painting, from Botswana, Southern Africa–"Azuoma," 2019
Sidney McCoy, senior studio art major from North Little Rock–"Dex," 2020; "Untitled," 2019
Bobby Miller, senior art major from Conway–"Missing Home," 2019
Nakeya Palmer, senior art history major from Forrest City–"Home," 2018
*The Idle Class featured Louise Mandumbwa as the Visual Arts Issue cover artist.