Fort Smith's The Unexpected announces 2016 line-up, expands to Fayetteville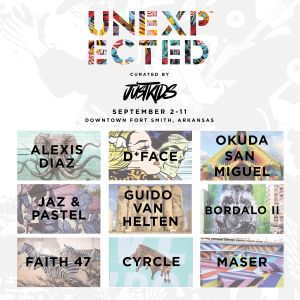 The Unexpected, organized by 64.6 Downtown has finalized it's artist line up for the event taking place in downtown Fort Smith, ArkansasSeptember 2-11. The artist line-up, curated by JUSTKIDS, includes Alexis Diaz, Okuda San Miguel, Guido Van Helten, Jaz, Pastel, Faith 47, Bordalo II, Cyrcle and returning artists D*Face and Maser.
Alexis Diaz will open The Unexpected beginning his mural the weekend of August 26 in Fayetteville.
"We had the pleasure to bring exceptional artists last year and the impact and response of Fort Smith was very positive. We are coming back with a brand new program including a variety of Art interventions such as installations, performances, videos and murals " says Curator Charlotte Dutoit from JUSTKIDS.
Thursday, September 1 will see the kick off celebration at UAFS-Windgate Art and Design with the opening of Maser's installation entitled Argon, an immersive sensory exhibit where visitors are encouraged to become part of the three dimensional canvas. Argon is sponsored by the UAFS Foundation and in collaboration with the UAFS Chancellor's Coalition for the Visual Arts.
Says Mary Lackie, vice chancellor for University Advancement, "We love having the chance to invite the community to campus and to give people the opportunity to see what a wonderful facility we have in Windgate Art & Design, thanks to the generous gift from the Windgate Charitable Foundation. Hosting an artist installation on campus affords our faculty and students the opportunity to work and engage with an internationally known artist. This is the kind of value-added experience that we want to be able to provide for our students."
"We are pleased to continue to bring innovative works to Arkansas and to introduce the state to new urban contemporary artists," says event organizer Claire Kolberg. "Our continued partnership with UAFS and the community has had a positive impact by furthering our commitment to establishing creative spaces in Arkansas."
Additional programming includes a mural designed and executed by the UAFS art department and students as well as a collaborative mural between Northside and Southside High Schools.
This year's event was made possible by generous contributions from ArcBest, Arvest, BHC Insurance, Breeden Dodge, First National Bank, Fort Smith A&P, Ghan and Cooper Commercial Properties, Hanna Oil and Gas, Melanie Radcliff, CPA Inc., Mercy, OG&E, OK Foods, Penny Packard, Propak Corp, The Pruitt Family, Rheem, Slim Chickens, Sparks, UAFS Foundation in cooperation with the UAFS Chancellor's Coalition for the Visual Arts, and Zero Mountain.
For more information including artist information and building locations visit www.unexpectedfs.com.
JUSTKIDS is a dynamic interface that conceives, produces and promotes comprehensive art projects on an international scale with some of the world's most engaging artists, curators and strategic consultants. Founded in 2014 JUSTKIDS supports a diverse team of inspirational pros and upcoming talents to meet the demands of a constantly evolving audience, delivering public Art, gallery shows, Artist tour and branding, offering new consumer experiences with top tier visual artists. JUSTKIDS is the creator and producer of some of most innovative large-scale art events and the consultant for some of the leading Art institution and lifestyle brand.
Stay connected on @justkidsofficial on Instagram and Facebook and visit justkidsofficial.com for more information.
64.6 Downtown is a Fort Smith non-profit committed to creating vibrant spaces in Arkansas. For more information visit www.646downtown.com.