Two25 Gallery and Wine Bar Springs Into the Charity Season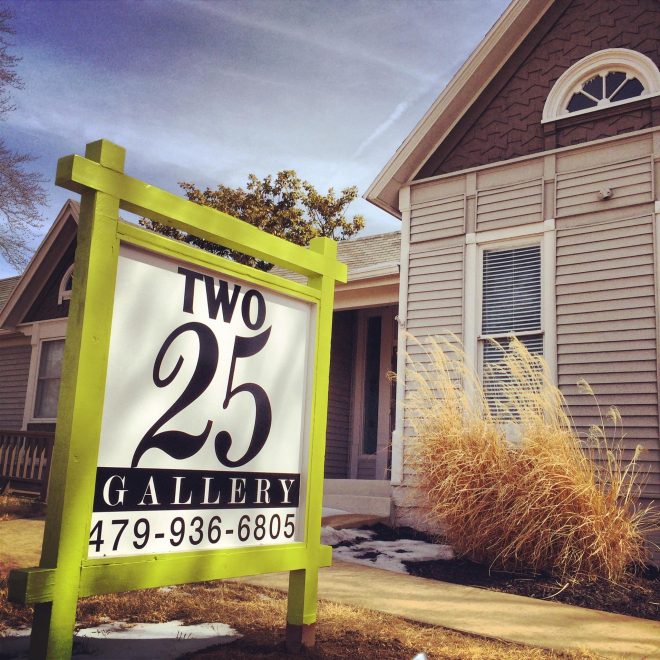 WORDS / ASHTON ELEY
Two25 Gallery & Wine Bar is known for it's tasteful regional art and delicious food and beverages, and next month, the owners will be showcasing the talents of visual and musical artists and winemakers for good causes.
Owners and married couple David and Pam Tipton treat those within the community and who walk through the doors at Two25 like family, making it one of the coziest places to visit near the Bentonville square.
Those looking for some grub while in town for the Bentonville Film Festival can eat to their heart's content at the Crawfish Boil Music Festival at Two25 on May 6. David will be cooking up pounds and pounds of crawfish – secret custom blended spices from Louisiana Cajun herbs – to be served with corn on the cob and new potatoes.

The festival will last from 11 a.m. to 6 p.m. with five bands performing throughout the day, including Scale House Blues and Ron Stratton. The tickets will be $25 per person and children 12 and under can get hot dogs and sides for $10. All ticket proceeds from the festival will benefit the NW Arkansas Women's Shelter.
The entire month of May will be hosting teachers and artists who work with Studio 7 in Rogers Arkansas, which is owned by Tania Knudsen. The gallery will be exhibiting art from all studio students and teachers, Pam said.
All but one room in the gallery will be devoted to the Studio 7 artists, David said. But it's more than a partnership in art.
Studio 7 is the main sponsor of the event "Art on the Creeks" on Oct. 7. The festival/fundraiser was created raise awareness and money for Lifestyles, which assists adults with mental disabilities. The May exhibit will start raising funds for the fall festival.
While not the only other event Two25 has to offer, the Songwriters' Festival is certainly on the not-to-miss list. A total for 10 songwriters will perform over the three-day event.
"Each of them will be performing their original music," David said.
The event also raising money for the I'll Fly Away Foundation, named after the song and which works to encourage students to get involved in a music program.