"Threads of Identity" opens at Art Ventures on July 7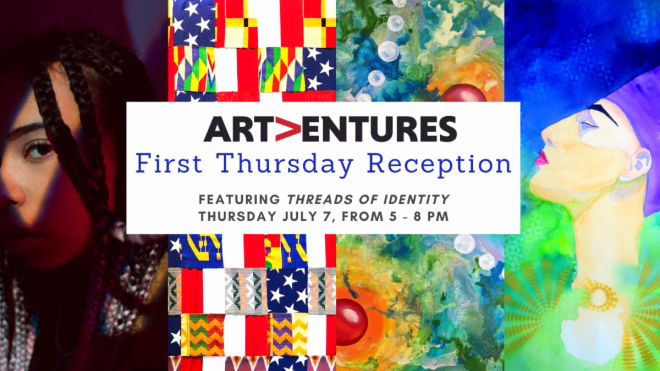 Art Ventures latest exhibit Threads of Identity opens on July 7 at the gallery, located at 20 S. Hill Ave. in Fayetteville. The First Thursday reception runs from 5-8 p.m. Guitarist Nate Smerage will perform. Refreshments are Free including beverages by Core Brewery and Fossil Cove Brewery. Parking is limited. Free shuttle pickup begins at 4:45 p.m. on Center St. between the Square and the Fire Station.
Threads of Identity explores a multifaceted artistic approach to sharing cultural, emotional, and intellectual stories we carry collectively and individually. Invariably, this is reflected in how we clad and decorate ourselves, and what forms, designs, and spaces feed our emotions and say who we are.
Art and art-making allow us to communicate the depth of our identities as culture, gender, religion, and more through clothing, make-up, jewelry, what we like to see and touch, and where we want to be. Here, culture and the self are expressed in a tapestry of fashion, ceramics, textile, jewelry, paper, painting, and other mediums.
This exhibition features art by Japheth Asiedu-Kwarteng, Cheri Bohn, Rani Bondhus, Shelby Fleming, Adam Fulwiler, Cheryl Kellar, Mack Leal, Connie Lim, Leslie Perryman, Gala Reneaum Tello, Denise Sagan, Kathleen Schwarz, and performance artist Kaye Jolie Onuris.
Additional Art Ventures Curated Exhibitions:
Fayetteville Public Library- Life On Earth Over Time featuring K-12 Gallery Initiative Home Schooled Students View Exhibition
Fayetteville Chamber – Bits and Pieces Make a Whole, featuring Rebecca LaTourette View Exhibition
StartUp Junkie – Outlines of Imagination featuring Jeffry Cantu – Reception: July 19, 2022, 5pm to 7pm @Startup Junkie Pryor Center, 1 East Center Street in  Fayetteville View Exhibition
Theatre Squared – Lourdes Valverde and Andrea Carillio View Exhibition