Creative Spaces unveils new artist installations on Mount Sequoyah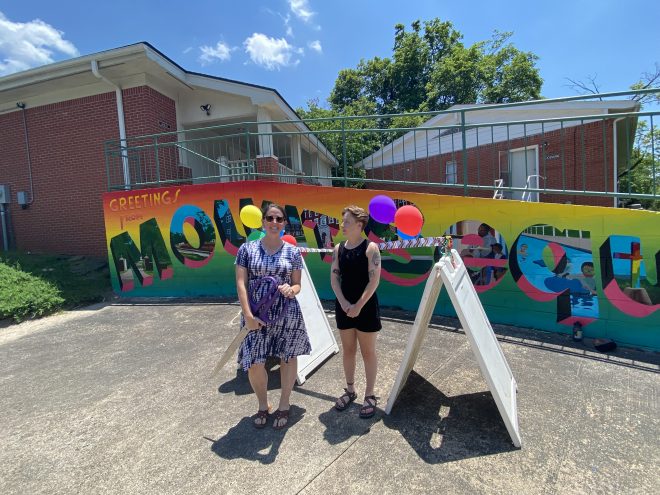 On June 25th, Creative Spaces at Mount Sequoyah Retreat Center unveiled three new installations created by artists Ziba Rajabi, Eugene Sargent, and Jody Travis Thompson. Thanks to Creative Spaces Director Jessica DeBari, an ArtConnect grant was collected to fund the artists through  the Creative Arkansas Community Hub & Exchange (CACHE), and the Mid-America Arts Alliance.
Mount Sequoyah CEO and Executive Director Emily Gentry said, "Creating connection through the arts is a vital part of Mount Sequoyah's mission. We envision these newly created pieces as points of welcome to the community that previously felt they might not be allowed within the outer gates of the mountain top."
Through the grant, residents of Fayetteville can now explore the grounds of Mount Sequoyah to see "Greetings," which is a large-scale mural created by Thompson.
Thompson relocated to NWA to attend graduate school and focus his attention on gaining new experiences with painting.  While working on his MFA, Thompson began to shift to what he describes as "material driven abstraction."  It was at Creative Spaces that Thompson found his creative home, where a few of his large scale paintings are now on permanent display.
When creating "Greetings" for Mount Sequoyah, the goal was to make a piece that "embraced the past while looking towards the future, as well as showing the diversity of people and ways of creating." For Thompson, this makes him think of Bruce Springsteen and E Street Band's album art of Greetings from Ashbury Park. In this mural, Thompson was able to display the various building as well as the people, who are the most important part of Mount Sequoyah says Thompson.
Thompson is currently working on multiple pieces, and one can find his artwork on Instagram: @jodytravisthompsonpainting.
Another of the other instillations unveiled on June 25th was by "Dogwoods and Birds" by Rajabi.  Her textile piece was inspired by the nature surrounding the studios of Mount Sequoyah. Rajabi is an immigrant from Tehran, Iran, who relocated to NWA to attend the MFA program with the U of A. Rajabi became a member of Creative Spaces in 2019 right before the pandemic hit. Her studio on campus became a way for her to escape the unstable environment around her, Rajabi says.
Rajbai stated that one of the most enjoyable parts of becoming a resident at Creative Spaces was a beautiful dogwood tree along with the many birds that visited the grounds she worked on.  The surroundings of Mount Sequoyah inspired her to create a collection of woven fabric with painted birds and flora native to NWA.
Rajabi's art has been featured in Crystal Bridges and other galleries in Tehran. You can find her on Instagram: @Zibarajabi.
The next work featured on the mountain is Sargent's "Wedding Arch".  This 12 foot tall arch is made of steel and stands tall on the mountain. Sargent says his inspiration for this piece came from the experience one has when looking up at the clouds as well as the many connections made at Vesper Point on Mount Sequoyah.
Sargent is a multimedia artist who has done work all over NWA including his work on the well-known castle located at Wilson Park. He made his way to NWA as a child with his parents during the Hippie Flight. Although he did not attend school for arts, he made his way to creating and has had his work up in galleries over the years.
Sargent can be contacted through his website and his work can be seen throughout Fayetteville and at Mount Sequoyah.
These three installations at Creative Spaces is just one part of the many activities and support offered on the mountain. Creative Spaces offers residency to artists, artist studios, performance venues and programs such as After School Art – which is a program for LQBTQIA+ youths. Learn more on their website.