TheatreSquared celebrates campaign milestone, announces $2.9 million investment from State of Arkansas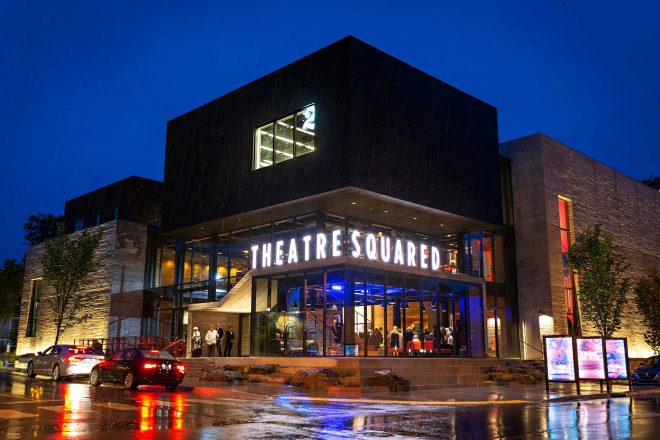 More than 200 supporters of TheatreSquared's Our Next Stage Campaign gathered in the company's near-complete, state-of-the-art new home on Saturday for a black-tie celebration as the company announced 90 percent of building funds have been raised thanks to a funding commitment from Arkansas State Legislature.
 Sen. Jim Hendren shared news that Gov. Asa Hutchinson had authorized a $2.9 million funding commitment from the State of Arkansas's rainy-day fund, in recognition of the project's substantial economic development and quality-of-life contributions to the state, according to a press release.
Fayetteville native and Broadway veteran performer Esther Stilwell performed at Saturday's one-night-only event in gratitude for their support. A commemorative plaque will be placed in The Commons next to the names of the campaign supporters who made the completion of the building possible.
"We are sincerely grateful to Gov. Hutchinson and the State of Arkansas for helping us reach this crucial milestone," said Todd Simmons, CEO and vice chairman of Simmons Foods and a member of TheatreSquared's Our Next Stage Committee. "Not only has TheatreSquared become an anchor cultural institution for those who live and work in Northwest Arkansas, but they also bring performances and programs to 70 schools across our state."
TheatreSquared had already established a $9 million public-funding goal as part of its $31.5 million project budget to fund construction. With leadership contributions from the City of Fayetteville and the Fayetteville A&P Commission, the State of Arkansas's commitment will close out the public goal.
TheatreSquared now enters the final phase of the Our Next Stage Campaign as it aims to reach the last 10 percent of project funds and establish a new capital-reserve fund to help sustain the company's artistic and educational programs.