The Unexpected announces line-up for street art festival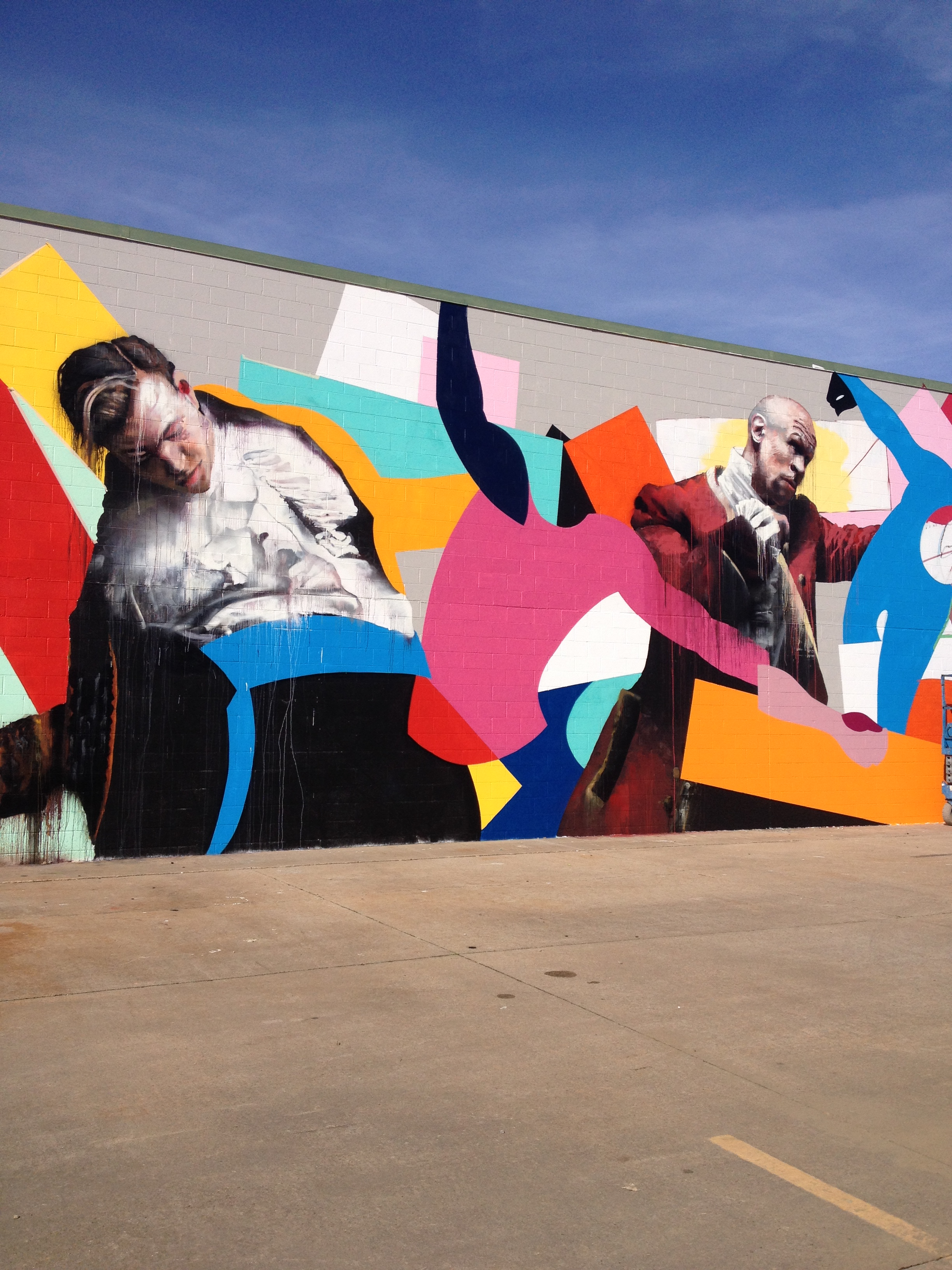 The Unexpected, organized by 64.6 Downtown, has finalized its artist lineup for the inaugural mural festival happening September 3rd-12th, 2015 in downtown Fort Smith, Arkansas. The artist line-up includes world recognized artists Vhils, D*Face, Roa, Ben Eine, Maser, Ana Maria and Bicicleta Sem Freio and is curated by Charlotte Dutoit from JUSTKIDS.
Fort Smith already had a preview of what to expect during festival week when Irish artists Maser and Conor Harrington collaborated on an impressive large-scale mural at Boardertown Skate Shop in March 2015.
The festival will kick off Thursday, September 3rd with a ground-breaking print show entitled "Printology" at the University of Arkansas-Fort Smith new Windgate Arts and Design Building. Curated by JUSTKIDS, and sponsored by the UAFS Foundation, this retrospective exhibition will feature some iconic works from the most renowned artists from the Urban Scene such as Banksy, Invader and Shepard Fairey. The exhibition runs through the end of October.
During the week and in between 10-square blocks, a series of downtown historic buildings will be painted and the public is invited to witness the process as the internationally renowned artists complete their murals.
Curator Charlotte Dutoit has been curating street art shows for many years, many in large international cities like London or Las Vegas. She says working in Ft. Smith is special because its downtown buildings are impressive and beautiful. Additionally, its past as western border town next to Indian Territory, highlighted in classic Western films such as True Grit and Hang 'Em High, gives the downtown a rich and intriguing history with which to work.
"But the main reason why I decided to work on this project is because of the team," Dutoit told The Idle Class. "They are just great, very motivated, very efficient. They have a fantastic positive energy, and want things to move and change positively in Ft. Smith, and they have a vision."
I can't wait to go back there!" Dutoit continued. "In Ft. Smith, Street Art is new, which is not always true when you work on a project…where people see tons of murals everyday, so that is also something very refreshing. It is a pleasure for us to bring something new to Ft. Smith."
In addition to the mural festival, there are several other related activities including a spoken word night with Chicago poet and activist Malcolm London on Thursday, September 10 and an Art in the Park event Saturday, September 12 where local artists will have an opportunity to paint in an open-air setting.
"The Unexpected is an opportunity to bring art to the Fort Smith community, and to engage the community on a meaningful level", says festival organizer Claire Kolberg. "Downtown Fort Smith could be poised to become the largest outdoor art gallery in the state."
JustKids is a multidisciplinary dynamic interface that creates large scale art events, gallery shows and design spaces with a global network of artists, curators, designers and art consultants on an international scale.
64.6 Downtown is a Fort Smith non-profit committed to the revitalization of downtown Fort Smith.
For more information including artist information, activities, and building locations please visit www.unexpectedfs.com.
For more information about JUSKIDS please visit www.justkidsofficial.com.