Terra Studios to cease "Bluebirds of Happiness" production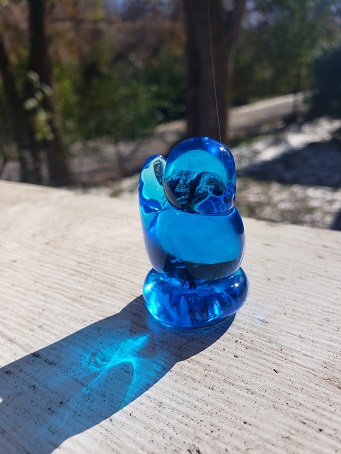 Terra Studios announced today the company will suspend creation of their popular "Bluebirds of Happiness" at the start of next year to bring attention to the climate change emergency. The demonstrations will proceed through this holiday season, and the current inventory should last throughout 2020. 
"Please know we are not making this decision lightly," says James Ulick, founder and board president of Using Art to Create a Better World. "After careful thought, consideration and countless conversations, and understanding the full financial ramifications, we believe taking action is our only option. The future is at stake."
Glass blowing involves burning a large amount of natural gas and electricity, which produces a tremendous amount of greenhouse gasses that "seriously threaten this marvelous earth we all share," Ulick says.
Because of this, all hot glass demonstrations will be suspended until the technology becomes available to create the Bluebirds without damaging the natural environment. Solutions already exist, yet are not being implemented. 
ABOUT TERRA STUDIOS AND BLUEBIRD OF HAPPINESS®
The world-famous Bluebird of Happiness® has been produced at Terra Studios in Northwest Arkansas for 37 years. In 2014, Terra Studios transitioned to become a nonprofit arts organization, Using Art to Create a Better World, dedicated to promoting the arts and inspiring creativity. Plans are underway for a variety of art demonstrations in lieu of the popular hot glass demos. Interested artists should contact the executive director. Terra Studios is located approximately 15 miles southeast of Fayetteville, just off Hwy 16 East at 12103 Hazel Valley Road, Fayetteville, 72701. For a schedule of classes, art demonstrations and other events, visit https://terrastudios.com or the Facebook page.