Step Into Fort Smith's Past with "Miss Laura's" This Summer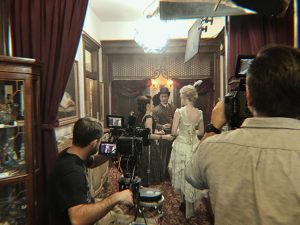 WORDS / ASHTON ELEY
Van Buren native and director Devon Parks and the Emmy-award winning production team Mad Possum Pictures is now in post production with "Miss Laura's," the second film in the Arkansas-based historical series "Step Into."

Arkansans may remember the first, and now critically acclaimed, film "King Opera House," which, in a docu-drama style, tells the story of the Van Buren legend and landmark. The film is shown in the town twice a week for tourists.
This time, emmy-award winning production company Mad Possum Pictures filmed at another Arkansas landmark called Miss Laura's, located on North B Street in Fort Smith, that served as a former social club built in 1896.
Miss Laura's takes on a different feel than its series predecessor as it is fully narrative. While Parks and his team took in all the historical information available, he said the film is not meant to replace the building's historical tours.
"So, what we did is gather all the factual information as we could and then sought to engage our viewers in what the time would have been like when this was legal and if they would have walked down on this street when this existed," Parks said. "We want to make them feel something."
The around 25-minute film does feature factual characters like Miss Laura and Burtha Deane, who took the house over from her.
It is the controversy of legal prostitution and the mystery of the place compared to Fort Smith's other notable figures and landmarks, that drew Parks and partner and writer Chuck King to their second project.
"We were just drawn to the idea of these characters," Parks said. "Like any human being, their story deserves to be told."
Many of the lead roles are played by actors from Los Angeles who have ties to the state and wanted to give back. Other actors and extras are residents of the River Valley and Northwest Arkansas, like Missy Speer Gipson who played Miss Laura.
Right now, "Miss Laura" has a tentative summer premiere and will be shown at the Fort Smith Museum of History for free.
Ultimately, Parks' goal is to tackle Arkansas stories that have not been told in film and dig deeper, he said. Parks hopes to continue the series and they have a few future projects in mind, but nothing they can reveal at this time, he said.
Funding for the "Step Into" films come from private donors and social media campaigns.