Fayetteville Underground announces new artists and art classes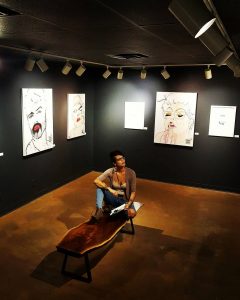 WORDS / LAURA DONOVAN
Seven local artists have the profound opportunity to represent The Fayetteville Underground with their work in the visual arts. Through this prospect, they have a studio residency that also serves as a work space where they are free to create and showcase their art. These artists include Karen Ahuja, Anthony Davis, Leah Cowden, Amy Eichler, Celestine Eichler, Cory Perry, Cheri Bohn, and Joëlle Storet, and are also given the chance to host "Artist Talks" which provides them with an opportunity to intertwine their art with the community, and freely talk about their creative messages.
Through an application process directed by The Fayetteville Underground's board of administration and curatorial panel, this team was compiled in October 2016. Joëlle Storet, one of the managers and local artists at the Fayetteville Underground, expressed her vision for the visual arts and the community to work together "to support our local artists to the highest standards, and encourage education and public engagement in the arts throughout Fayetteville and the surrounding area."
With the aid of community support and volunteer action, The Fayetteville Underground provides the service of a showcase of regional art, as well as new exhibitions every month.
"In addition to monthly exhibits, the work of visiting visual artists is showcased regularly throughout the year," Storet says.
All aspects of art in Fayetteville are encouraged through The Fayetteville Underground's mission, including dance, film, painting, drawing, ceramics, music, and comedic theatre. Local artists and other organizations are also welcomed to collaborate for various events around town from anything such as concerts to classes and performances.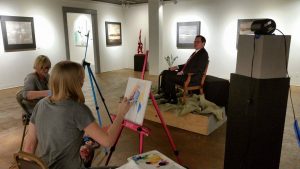 The Fayetteville Underground has certainly upheld its role with keeping the community in tune with the arts, by creating open studio sessions twice a month for featuring artists to interact with the public. These sessions include a Portraiture session, which gives artists and visitors a venture to study their creativity and public figures, as well as a drawing theory class.
For more information regarding any events or subjects mentioned above reference, contact (at) fayettevilleunderground (dot) com.