Fay Jones School of Architecture and Design Hosts George Dombek's "Barns and Portraits" Series
Look around a room for one esteemed artist, and you won't find someone asking for attention and praise. Instead, you might find him trying to blend in with the audience, even though all eyes will reach him eventually. He might be talking with a colleague about future projects and pretending like the mass of people around aren't there solely for him while showing humble pride in his work with a soft smile.
He moves through the years upright and with grace, just like the barns he meticulously paints with watercolor, as he has done for the last 43 years. And George Dombek isn't stopping anytime soon.
The local artist and UA alum debuted his most recent exhibition "George Dombek: Barns and Portraits" on Jan. 17. At the exhibit reception, which took place Jan. 20, UA students, faculty members and local architecture representatives celebrated his established work at the Fred and Mary Smith Exhibition Gallery in Vol Walker Hall on the University of Arkansas campus  Jan. 20.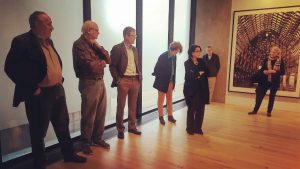 The reception began with an introduction by Associate Dean Ethel Goodstein, followed by remarks from Mike Bieker, the director of the University of Arkansas Press, which published Dombek's collection "Barns and Portrait Paintings." As the description reads, Dombek uses watercolor paints to "to build up shadows and textures over geometric compositions in a style he calls 'Constructed Realism.' To his technical virtuosity he adds humor, pathos, dignity, and reverence as well, creating no less than a visual eulogy to these buildings and their rusting contents."
Although some students were not as familiar with Dombek's work, they attended the reception because of recommendations from their professors in the Fay Jones School.
"We've been encouraged to get out and always be open to different ideas that come up, just kind like expand our horizons and understand… what architecture entails and how it can be implied to this," Matthew Scott, a first-year architecture student said.
Third-year interior design student Amanda Collen is a university tour guide as one of four Fay Jones School student ambassadors. As a tour guide, she not only presents an expertise about the university to her groups, but she can also explain to any potential students which paths they can take within the architecture and design school. And knowing which exhibitions are on display, like Dombek's helps, too, so she can give more detail as to what goes on within Vol Walker's walls.
Dombek is "an esteemed alumnus, and a great friend to the School," Fay Jones School Dean Peter MacKeith said in an email. "We're very proud to be able to do this for George and for the community."
Dombek received his Bachelor of Architecture and Master of Fine Arts in painting from the University of Arkansas. It was during his fourth year in the architecture school, in an elective he thought would just pass time, that he chose his lifelong interest and focus on barns.
"I took that course because it's one of three electives in the school at the time, and I thought it was just something in passing, but it became something really important to me," Dombek said. "So I'd just like to say that you never know what path you're gonna go down, and I was fortunate enough to have some excellent teachers here," which included the school's namesake Fay Jones, Dombek said.
He went on to teach art and architecture at universities in Ohio, Florida, Arkansas, and overseas in Saudi Arabia and Italy. During his teaching and throughout his career, his catalog of work has been exhibited in over 600 collections and in more than 100 exhibitions at museums around the country.
"Barns and Portrait Paintings" is available for purchase at the University of Arkansas Press website for $65. The exhibition at Vol Walker Hall is open to the public from 8 a.m. to 5 p.m. Mondays through Fridays until March 17, and admission is free.
VISIT:  GEORGEDOMBEK.COM