Stage Eighteen to Host "Decadent Chemistry: Heroines and Abstracts" Featuring Small Works by 38 Artists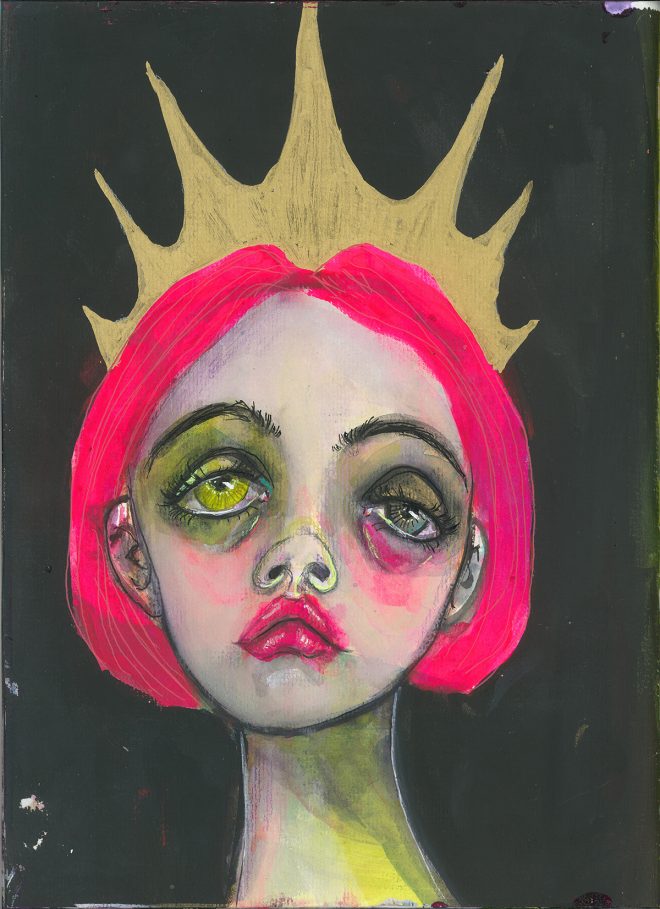 Stage Eighteen will host a gallery reception for the art exhibition "Decadent Chemistry: Heroines and Abstracts,"  featuring small works of art by 38 artists. The opening reception will be held on First Thursday, December 6, from 6 to 9 p.m. at 18 E. Center St. in Fayetteville. Exhibited works will be available for purchase and will remain on display through February 2, 2019. Admission is free and a cash bar will be available for guests during the reception.
About Decadent Chemistry: Heroines and Abstracts 
This carefully curated juried exhibition features 38 artists. This two-dimensional small works show was created to recognize and sell works by emerging artists. Small pieces provide an excellent opportunity for fine art collectors to obtain work from some of your favorite artists and support the local creative economy. While there is a limit to the size of the pieces (16″ x 16″), there is no limit to the creativity and imagination that will be on display.
Artists include: Dorothy Ahyana, Nichole Atwell, Martin Balsam, Katrinka Booth, Margaret Correll, LaKay Dailey, Jo Adel Dalton, Case Dighero, Dillon Dooms, Carole Doshier, Shawna Elliott, Shelby Fleming, Marsha Lane Foster, Ashley Gardner, Rob Gordon, Valeria Gibertoni, LaDonna Harvey, Shabana Kauser, Ruth Lawlor, Kellie Lehr, Octavio Logo, Christina Mariotti, Melissa Ellen Milton, Kim Montero, Heather Young Morton, Jan Partin, Brianna Peterson, Colye Pitchford, Simone Renee, Tom Richard, Jennie Sanderson, Emily Smith, Stacy Spangler, Diane Stinebaugh, Jenn Terrell, J.N. Ward, Delaney Willard, Lee Ann Wills.
About Suzannah Schreckhise, Gallery Director
Suzannah Schreckhise is an award-winning 2D and sculpture artist, and serves as the Gallery Director of Stage 18 in Fayetteville. She holds a B.A. in Art from University of the Ozarks, and was a 2018 Artist INC Fellow. In the last year, her art has appeared in over 40 galleries, including shows at the Woman Made Gallery in Chicago, and the Topanga Gallery in Los Angeles. She has exhibited at the feminist Ceres Gallery in New York City. She has shown her work in several other national and state exhibition venues, and she received the Best Sculpture Award for her piece "Falling to Pieces" in the 2018 Artists of Northwest Arkansas Exhibition. Her work is also featured in the forthcoming issue of the international juried art magazine, Studio Visit. Suzannah is currently authoring profiles of art collectors for the statewide art magazine, The Idle Class.  http://www.suzannahschreckhise.art
About Stage 18 Art Gallery
Mission Statement: Encourage economic growth for creative visual artist in our community by providing a diverse gallery space for emerging artist to show and sell art and engage a non-traditional performing arts audience encouraging art appreciation.
Stage 18 Gallery is located at 18 E. Center St. in downtown Fayetteville and is open the First Thursday of the month and one hour prior to Stage 18 events. Admission is free during gallery hours but tickets or cover charge may apply to events. You can find additional event information and times at https://www.stage18live.com/calendar.  Cash bar is available for guests.