Stage Eighteen Announces Grand Opening Celebrations Featuring Galaxy Tour Guides, Beat Bachs & More
Fayetteville's newest performance art venue + bar is officially open! Located in the heart of downtown, just off the square at 18 E Center St, Stage Eighteen is set to host a variety of productions and events, including live music, comedy, theatre, film screenings, visual art, fashion presentations, private parties, and much more, accompanied by a full service cocktail bar. They will host their grand opening on Thursday, Feb. 2 from 6-9 pm and on Friday and Saturday from 7 pm to 1 am.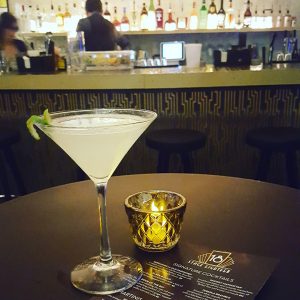 Owners David & Lauren Embree and Caleb Clark are proud to invite the public for a weekend of grand opening celebrations, beginning with an artist reception on First Thursday, February 2 at 6pm. February features paintings by Stephanie Petet, and 2D/3D works by Danny RW Baskin. Galaxy Tour Guides will rock the stage on Friday, followed by Beat Bachs and a special performance by Ben Edwards on Saturday. All events are free and open to the public, with doors at 7pm on Friday and Saturday.
Several local performers are already making a home at Stage Eighteen, including Square House Tuesdays with Purp & Meesh, the comedy show That's What She Said, and Comedians NWA Open Mic, all performing regularly at the new venue. Other upcoming shows include Adam Torres (Austin) with Justin Peter Kinkel-Schuster (Fayetteville) on February 11, Sarah Cahoone (Seattle) on February 20, Randall Shreve (Fayetteville) onMarch 3, Smokey & the Mirror (Fayetteville) on March 4, Trouble in the Streets (Austin) March 10, and Phunbags Comedy Improv on March 11. For a full list of upcoming shows & information, visit www.stage18live.com.
About the artists:
House vs. Home: An Investigation of Memory Through Abstraction is a body of work by Stephanie Petet dealing with reconstructed memories and staged psychological spaces. She uses a language of schema such as her grandmother's empty pool, arched windows, towers, veils, moving boxes, and a childlike image of the house. This legend of symbols all parallel moments of comfort and threat, honesty and dishonesty.
"The use of underpainted day glow-nauseating color intensifies the unreality of each piece. Sometimes when that day glow color is absent there is something that is still off… Weird," Petet says. "I want to simulate a dream state, sleepwalk, or tunnel vision into my memory that is then further pushed by the use of echolocative marks (long rope, vine, spaghetti noodle lines) that drape, contour, and wrap themselves in and around each piece. The use of veils, glazed or covered up areas, in some of the pieces act as a way to quiet, exclude, or allow you to eavesdrop and peer into the space."
The delicate balance of chaos in each piece requires the viewer to tiptoe in and around for fear of disrupting. Petet was most recently taking Post-Baccalaureate courses in Painting at the University of Arkansas, Fayetteville.
Danny RW Baskin is an artist based out of Fayetteville, AR. His practice includes creating drawings and sculptures based on other works of art from the Western Canon. His source material spans a wide breadth of time from ancient Greek and Roman masterpieces to 90s cartoon characters. He takes this imagery and skews it, replacing these iconic works with lumpy blurs of their former selves. When viewed as a full installation, the separate characters in each work seem to converse with one another, collectively forming purposeful yet veiled relationships. Along with the formal and material shifting of the original works, hanging these portraits in small vignettes further skews the context and meaning of each work.
Baskin regularly shows nationally and is co-director of FEAST Gallery, a new contemporary art space. He currently works as head curator of AAWE, an Arkansas based billboard arts project and is also working towards an MFA in Sculpture at the University of Arkansas.