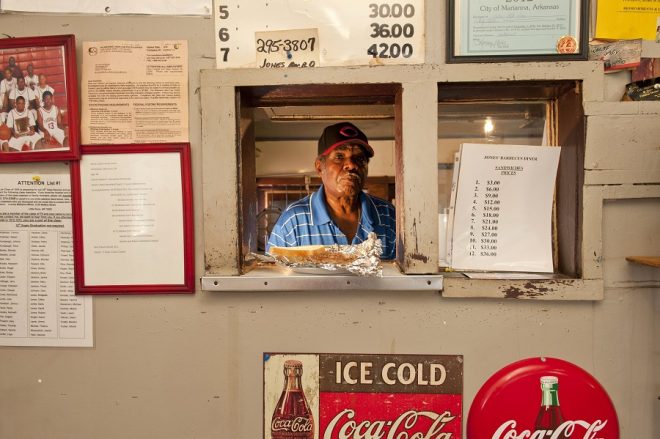 Jones Bar-B-Q has been an Arkansas staple for over a century, and earned a James Beard Award along the way. Chef Case Dighero recollects moments of attempted connection with James "Mr. Harold" Jones over a famed barbecue sandwich.
WORDS / CASE DIGHERO
PHOTOS COURTESY / ARKANSAS DEPT. OF PARKS, HERITAGE AND TOURISM

---
"I ain't doing no more interviews," said the deep, somber voice on the other end of the phone. 
I hesitated briefly, not wanting to hear a click before I could aptly respond; but my weak reply only helped the conversation devolve as I feebly pleaded, "Sir, I would be happy to come see you, and I won't take more than a few minutes of your time." 
The line was filled with loud clanking, and someone was murmuring in the background beneath the same strong voice cutting me down to size. "Nah, I ain't doing no more interviews," followed by more clanks, murmurs, and then finally: CLICK.
Disappointed in myself, I put my phone down, sighed heavily, then cleared my entire calendar for the next day so I could drive five hours across the state to visit one of the oldest and most revered Black-owned restaurants in the United States: Jones Bar-B-Q Diner in Marianna. It had been a while since I had last taken a solo road trip, and the nearly 600-mile journey to the Delta would prove to be more than just another work assignment. Rather, it would be an exercise in humility and heritage. 
Jones Bar-B-Q is southern royalty, if there ever were such a thing. Established in 1915, it is alleged to be the longest running Black-owned restaurant in the country; staying power that not only merits its true grit reputation across the state, but has also garnered national recognition when it won the America's Classics award from the James Beard Foundation nearly 10 years ago. I was excited, as this would be my third attempt at securing Jones Bar-B-Q; on earlier stops while en route to other destinations I had arrived too late to eat, because when the barbecue runs out, the store closes. Culinary karma had dictated my previous failures, but this trip was pure of heart, no distractions, motivated simply by a conversation with the owner (known as "Mr. Harold" to the townsfolk) and a chopped pork sandwich. 
I left Fayetteville before dawn, knowing the doors opened at 7 a.m. and that I needed to arrive at a sensible hour to ensure an order. The highway spilled out in front of my headlights and I contemplated my strategy for securing an interview. Reverence was the call, unadulterated respect from a student of food. Mr. Harold would have to give me five minutes because he would understand and feel the connection. I manifested the conversation, and before I made it to the foggy outskirts of Marianna, I hoped—no, I believed—that we would become friends, collaborators, and ultimately contemporaries of Arkansas food and history. In my mind, the story unfolded beautifully as my empty stomach grumbled on my approach to the order window.
The line moved quickly. The smell of fires stacked with rich hickory and oak was heavy in the air, and I placed my order for the only thing on the menu: chopped pork barbeque, either by the pound or as a sandwich wrapped in a swathe of foil. I found a place to sit inside, and felt a deep camaraderie with the six other people eating barbecue sandwiches before 10 a.m. The tender pork rested between two pieces of soft Wonder bread, sopping with a vinegary, pepper-laden sauce and coleslaw. I ate in complete silence, slowly, giving reverence to Mr. Harold in the best way I knew how, by eating his iconic chopped pork that had been smoked for nearly ten hours, then stewed in his secret barbecue sauce until it hit the bread and foil.  
I got up and ordered another sandwich, and our eyes met through the small order window. I nodded, and he nodded back, and that was all I needed. I knew before I was handed the sandwich I wasn't going to ask for an interview; I wasn't going to bother him, we weren't going to become collaborators, contemporaries, or even acquaintances, because some things are simply best left undone and unsaid. And for some, true reverence consists of a quiet head nod. 
Sadly, just two days after my trip, Jones Bar-B-Q Diner suffered a devastating fire that destroyed nearly 70 percent of the building. No one was hurt, but at press the fate of the country's oldest Black-owned restaurant is still uncertain.