THE LEGACY ISSUE: The Educators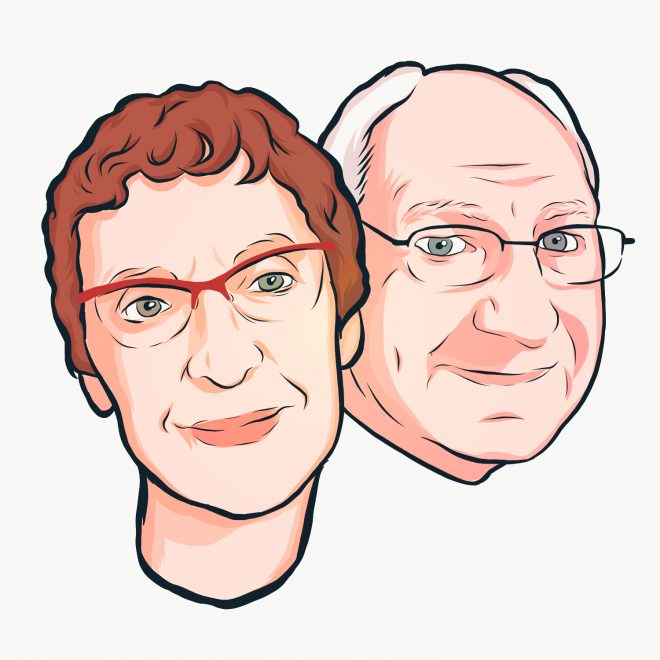 Growing up in South Arkansas, aspiring young artists became quite familiar with Jorge Villegas and Maria Botti Villegas. Both natives of Argentina, the couple have been artists and educators for decades. Jorge moved to the United States in 1978 and settled in El Dorado, where he has taught art in south Arkansas for 40 years. While picking up her works from a group show of Argentinian artists at a Manhattan gallery, Maria stopped by El Dorado to see Jorge. They had met in Buenos Aires in 1990, but she said that, on this trip, she fell in love with him and the town at the same time.
Have you seen any changes in the desire for art education in south Arkansas over the years?
JORGE / Yes, when I first started in 1980, there were no Visual Arts Education in elementary. The Artist-in-Education was the only access children did have to visual arts in Union County. Now it is mandatory to have visual art teachers in elementary.
There is more appreciation and recognition for the arts and their role in developing a well-rounded individual.
MARIA / In the early '90s when I became an AIE artist in Arkansas, Art was not a mandatory subject in public schools, so the Arts-in -Education project in El Dorado, provided with art education. I went also to other cities in Arkansas like Little Rock, Batesville, Texarkana, and Flippin to teach special projects during the year.
At least in El Dorado, the desire to have art was very prominent in the schools. Jorge was already working as an AIE visual artist, so he opened the field for me in many ways. Teachers, students, parents and administrators became in contact with murals and art projects beyond the regular art instruction. Also, there were other AIE artists from other parts of Arkansas coming to teach other disciplines like music and theater in our public schools. And there were local artists like Melinda Dodson who had their own studios offering art education to all ages. In 1995 we painted our first mural in town and that opened a lot of interest in murals.
I believed around 2008 Arkansas instituted art as a mandatory subject in schools. Over the years, parents, teachers, and general public have become more aware of the benefits of arts education in brain development. Parents are very enthusiastic to let their kids study art. Some of the elementary and secondary students we had taught are parents themselves. They visit the schools with their kids who are now students in those schools. These parents are thrilled to express their pride and satisfaction to their kids on seeing their work on the walls of the schools they attended many years ago.
Why is studying art creation important for young people?
MARIA / Art connects the most intimate parts of ourselves, our desires, wishes, emotions and expresses them on a piece of paper, on a canvas, on a sculpture, on a dancer's jump or an actor's gesture. I experienced what I consider Art through other disciplines like dance and singing. I felt content, full of something that was genuine and personal. I believe Art is one of the most human endeavors of all. In my case, I love to work with my hands, with my body and when I didn't know who I was, Art helped me find those unknown spaces. So as a teaching artist, I pass these experiences to other people, because I do believe in transformation. Art provides self-knowledge, expression, and communication of deep feelings and emotions. I can see young people who may not become professional artists in the future, having an experience, which will transform them in some way, forever.
Nowadays, Art therapy is well known and accepted as another form of therapy to help individuals with difficulties in life. Why? Because with Art, we get to know ourselves if we want to see. Art is behind activities that will help us express our feelings in a way that is rare to other disciplines. When we offer Art therapy, we know we don't think about perfect results or masterpieces, because at the end, what the participant is perceiving is his/her own way of expressing what is inside, what comes out from inside.
JORGE / There is not a subject in education, which target emotions like art. The education of an individual should allow the student to tap into the emotion he/she is feeling. Arts provide with an outlet to emotions. The kids learn to be in touch with their feelings and ponder different ways to provide a proper outlet to their emotions. Our main decisions in life are done by emotions. And when education taps into emotional memory, it stays with the individual, otherwise it is only information.
Have either of you taught adults at all? If so, how was it different?
JORGE / I have been teaching in every level, from 0 to death. I have been privileged to teach from 0 to 4 years old in a pilot program at Smackover Public School, this project providing a chance to young seniors mothers to attend high school while their toddlers where educated too. I worked at elementary level in many schools in Union County.
Worked on Middle School, and in El Dorado High School from 9 to 12 grades, Watson Alternative Education – four years, closed now; nursing homes; max security prison in Tucker, Arkansas, for eight years; and Champagnolle Landing and Our House 50 and older for individuals with disabilities for 40 years. Every level is different but they all have one common denominator—they all have the emotional need to express, communicate, and be loved.
MARIA / Here in El Dorado besides elementary and secondary education I've been teaching adults in my studio. I have also worked with special needs adults and children, a very gratifying experience. Nowadays, I'm teaching workshops for adults through virtual classes. We all have a child inside. In that way, we are all the same, children and adults. However, children are sometimes more open to live in the moment without consequences. Adults already bring in a baggage of experiences, which could make adults less able to change and work with their creativity without hesitation.
What role does art play in mental health?
MARIA / I think that as I mentioned before, Art therapy has been considered one of the disciplines intended to help with mental health issues. Art not only provides and expression of content, but also help us forget our current disappointments and miseries because it connects with the better part of us through creativity. When we create, we are in the present moment without worrying about past or future. That is when Art is most effective.
JORGE / Art allows the individual to tap into his/her best, and to strive for excellence, we all have a spiritual dimension no matter our condition in life, we all leave a record of our lives somehow, and Art is the vehicle who makes this possible. I have been so lucky through the years to be with students, teachers, principals and individuals teaching art and sharing creative experiences every residence I did contributed to me as an artist and as a person, the Artist in Education Program gave purpose to my life.
To me art is one of the primer ingredients of a happy meaningful life. It goes beyond the making of an object, it carries the human intention to share with other people our way of thinking, we share the way we feel and see, with anybody who approach our work even after we are no longer here.
Art provides the means to sharpen our senses and turn our perceptions into beautiful experiences. Art was and it is the major tool to transfer knowledge and human experience with other generations creating a bridge with the past.
What art classes do each of you teach? Any favorite subjects?
JORGE / I teach Kindergarten, High School 9 to 12 grades, and individuals with disabilities. They are all favorites to me, they have different needs but they are all equally valuable to teach. They are exciting to be with; I teach them to be themselves and express hands on with many materials. I blend in and become one of them. They are my teachers too and we work in groups to produce murals and big projects which require group collaboration.
MARIA / Before the pandemic, I was teaching K to 12 at the South Arkansas Arts Center, and in some of the schools, and with The Gifted and Talented program in El Dorado. I like all ages, I am goofy, have a big child inside, so I use that sparkle all the time to better connect with my students, I love all ages! Life is full of discoveries, right? I think that everything I consider important for teaching could be a subject. Sometimes, I teach the life and work of artists from past and present to share the road those artists have transited, but everything is interesting as a subject: nature, science, math, outer space is wonderful too. We do curriculum integration, so we try to integrate everyday life into our teachings and what the teachers need at the schools.
How have you balanced teaching with creating your own work?
JORGE / It is hard to balance teaching and studio work, my mind is still at school when I get home, but somehow my studio work gets done and it is important to me to share my work with my students. When I paint murals it is more challenging to create my work.
MARIA / When I teach, there is an exchange of energy. I tend to focus in the teaching moment, so if I have many classes during the day, I don't have time during the weekdays to go inside myself, my intimate space, to open the Pandora box. During the weekends, I enter in my studio that is at the back of my house. It takes me sometimes to settle down. Many times inspiration doesn't come for a few hours, a few days. If I had a busy schedule during the school year I would work over the summer, in silence, to be able to translate ideas into actual objects, paintings, drawings. Covid time has given me lots of ideas and hours to be in my studio with my cats!
How have you adapted to teaching during COVID?
MARIA / March 13, 2020 was my last day of work in person. I love to be in my studio and I love my house, so it was not hard for me to stay all the time indoors. I had to learn to make videos in a rush to maintain the busy schedule I had prior to the closing of schools and SAAC. So between March 2020 and February 2021 I have done a huge amount of videos for the schools The South Arkansas Arts Center and for our summer program at Henderson State University. I am happy to learn and happy to be able to communicate anyways. Virtual zoom classes present different challenges, but after all, we are creative and we try to reinvent ourselves all the time. I am currently teaching an adult watercolor workshop on Zoom through SAAC- South Arkansas Arts Center. We are 15 in that zoom meeting! I am in my home with my computer, iPhone and iPad. SAAC staff helps me if I have a problem with technology, so it could not be better. I like the proximity of being close to a student. I would like to feel the energy of each participant in person, but I found exciting to reach people that are farther away for me, from El Dorado. I can teach simultaneously in El Dorado or in any other part of the United States. In this workshop we have people from Camden, Little Rock, Fayetteville, and El Dorado, Arkansas, and that's awesome!
JORGE / Since COVID-19 started I have been making videos for my Kindergartens and High School classes. My Special Needs are in lock down and I do not have access to them, but still sometimes I check on them by phone.
Do you have any interesting teaching stories you'd like to share?
JORGE / In the late 80s I was lucky to work with Gene Perry, an inmate on death row at maximum-security prison Arkansas. In the early years he was incarcerated, Gene was a very angry man he got in trouble often fighting with other inmates, this landed him into solitary confinement for weeks. As a result, he wished to improve his behavior, He petition our governor to be allowed to learn to paint and draw before his execution.
I volunteered to help Gene to learn to paint and draw and as a consequence his behavior improved, he found a purpose to spend time painting at his cell. He produced wonderful paintings, sculptures, scale model of his cell, calligraphy works, and a manuscript book. Gene collaborated with letters to my students in Alternative School. I organized art shows to show his works, and AETN produced a documentary segment on his works. I spent time with Gene until a day before his execution. I visited him for eight years, and when he died he was considered a model inmate with excellent behavior. Art transforms and gives purpose to life.
MARIA / We had a student last year In El Dorado high school that will probably major in the fields of biology or computer. He is very special, and I knew that he wanted to be inspired. So recently we had the opportunity to talk to him on a virtual zoom meeting. This is his second year in Visual arts. He acknowledged that when he came to the classroom last school year, he didn't know what to expect and he was lost in the shadows. But he started discovering his own possibilities as an artist and as a person, solving problems and finding more to be solved. He found apps to fix photographs and drawings and we shared lots of ideas and information.
He is very curious and he's always looking for his Eureka moment! Through his experiences with drawing, painting, printing, and mixed media, he has found a good reason to be in his virtual Google meet class every morning with his teacher to see what could he discover next! Art gave him a platform to continue being curious, to validate his awesomeness!
Have students ever thanked you later on for teaching them? If so, how did that affect you?
MARIA / I think that we all thank others for the experiences that made a mark in our life. Like my husband, I cherish students coming back over the years to visit at SAAC, or the schools. I don't even remember their faces because they were very little when we had them. It's good to know that you could share what you love the most with young people or adults, because in that moment you feel one with them!
JORGE / Yes, many times shopping at Wal-Mart some of my young students approach me and now they are grown into adults they have families and they are in the workforce. Many of them are lawyers, doctors, artists, teachers, politicians, etc. It makes me so very proud to think through the years I had the chance to work and share my life with so many individuals.
What are your future plans as art educators?
MARIA / Teaching and making Art is something that I will do forever I guess! That's my passion and I feel free and happy to do it. As Renee Magritte, the surrealist, said in his words: "A truly poetic canvas is an awaken dream" I love the way he represented the spirit of creation, suggestive words in the mind of an artist.
JORGE / I hope to get my vaccine and go back to work to my teaching settings, in person.
Is there anything else you'd like to discuss that we haven't touched upon?
JORGE / It is important to mention that all this work will not be happening if it were not for the South Arkansas Arts Center and the Arts in Education Program, this partnership managed to reach segments of the population which otherwise will not have contact with a professional artist, Teachers, Principals and Administrators, recognized the value of the program. Sponsors who supported me through the years National Endowment for the Arts, Arkansas Arts Council, South Arkansas Arts Center, Murphy foundation, and private sponsors, they all believed in the relevance of the arts in education.
As I mentioned before in the 80s there was no visual arts in elementary. I was instrumental in designing a visual arts history program for elementary schools starting with pre-history and going through every meaningful movement in history till the 20th century.
In Southside Magnet school, the students will review History, and their cultural movements through their arts from Prehistory in Kindegarten until 20th century Modern Art at 5th grade, all year long. Every teacher in every grade had as a theme a period of history for the whole year and at the end of the year all classes will show their work. Southside Magnet School became one of the most decorated schools in Arkansas.
MARIA / Just to say thanks for the continued support from our South Arkansas Arts Center and the people of El Dorado and also the generosity of these organizations: The Murphy foundation, The Arkansas Arts Council, and The National Endowment for the Arts. I don't think I would have evolved as a teacher in the same way if I have not had the opportunity to teach thousands of students in all these years!