THE CHANGE AGENTS: Paul Leopoulos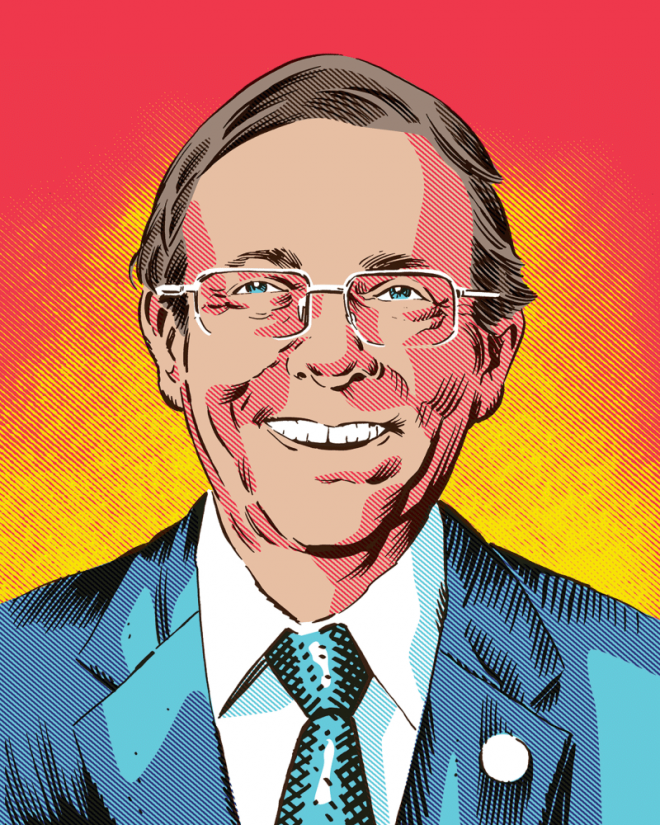 North Little Rock
INTERVIEW / KODY FORD
ILLUSTRATION / CHAD MAUPIN
Paul Leopoulos found a light in the darkness that followed losing his daughter, Thea Kay, in a car accident on Interstate 630 at the end of her junior year of high school. According to Leopoulos, Thea had struggled in school, but her grades dramatically improved after she began taking arts classes—the arts changed her life. After her passing, the family created an arts education nonprofit in her name. Leopoulos left his career in counseling and business behind and went on to run the Thea Foundation full-time until stepping down in 2019 so his son, Nick, could take over. Now 20 years since tragedy struck, the Thea Foundation continues to help young people come into their own through arts programs and scholarships. They have awarded more than $2.3 million in scholarships to Arkansas students and provided more than $1.5 million in art supplies and creative materials to underfunded schools through their Art Closet program. 
How did the Thea Foundation come about?
[Thea] had been a soccer player and hadn't gotten into the arts, but took an art class and a drama class and a competitive speech class and a dance class. And by the end of that year, she went from a struggling student who made C's and D's to making all A's and B's. […] So, with all that has happened, we had to look into what happened in her schoolwork, and why did she make that transformation so quickly that year? And it turned out it was the arts classes that she took. There's about 50 years of research that shows that young people that get engaged in the arts, no matter what level—they don't have to end up being a concert pianist or anything—they get engaged with it and they like it. They end up sort of retooling their left and right brain connections. And they end up doing much better in the cognitive aspect of education. So, when we found that out, we decided we ought to tell Thea's story about how the arts gave her confidence and how that confidence then transcended her abilities in school. And we need to be advocates for the arts because we realize that the arts are just not celebrated by most principals, superintendents, people that make the decisions on curriculum.
And so we decided to start the Thea Foundation and our mission statement […] is to advocate the importance of the arts in the development of our youth. So the development word in that mission statement is every aspect of a young person's development. You know, there are social, educational, emotional—all of those are impacted in one way or another when kids get engaged in the arts. They all might not go from hating math and science to making an A in Trig that year and then signing up to take calculus and physics the next year, which happened to Thea, but I mean in her case, that was massive that change. A lot of kids might not ever still care for math, and that's not what we're saying. We're just saying that there can be a massive transformation in many aspects of a young person's life. And one of those we feel can be better grades, better social environment, better ability with friends and on and on. So, our deal about the arts is total. We were all in on every aspect of trying to make the arts better in schools.
What did you do first?
So, the first thing we did really was establish our visual arts competition. And that first year we did it only for all of Thea's friends that were in this advanced art class North Little Rock High School and Thea would have been in that class, and they all still terribly missed her. And so we did it just for the kids in that class. The next year we went statewide and we've been statewide ever since on visual arts scholarship competitions. And it was a struggle. We did a lithograph of Thea's BB King fingerpainting—you can see that on our website under Thea K. at the top—you can see our art and read her creative writing her entries as well. And so we saw that to a little elementary school for $1,500. A friend of mine happened to work there as principal, and she wanted to give us a boost to get some money, so we took that money and we awarded that for those three scholarships the first year. I guy from the Democrat-Gazette, volunteered his time and took large format photos of her art in case we wanted to do more lithographs and people just started jumping online because they heard the Thea story. So, you know, for a couple of years, we were just trying to raise money and do our scholarship competitions. 
How did you continue to grow as a foundation?
After a few years, I spoke to Bob Hupp at The Rep about doing a performing arts scholarship. And so he gave me a lot of advice on that and actually gave me an idea if I'd check with colleges and the state, they might actually match our scholarships that we give kids. Well, turns out we've awarded about $2.5 million in scholarships since 2002, and about two thirds of that has come from colleges all over Arkansas and in Oklahoma and Georgia and other places with our other education partner program. So, you know, we just evolve and again, it was really tough. And then a funny thing and funny two years into the I got laid off at Axiom and here's a 50 year old guy being laid off.
And so we didn't quite know what I was going to do because we didn't have money at Thea [Foundation]. I would have to get another job and everything, so our board, which at that time included President Clinton, decided that I should do this full-time. And so they hired me as Executive Director making, you know, next to nothing, but it was wonderful. I didn't care. And so that's how we really started to grow. And now we offer 36 scholarships a year, about $100,000 in scholarships a year. We have our closet program where we give out between $100,000 and $200,000 grants for teachers all over the state to get art materials and music and dance and anything they need for their classes. We have the Arts Reconstruction program that's primarily for high school visual arts programs, and we try to give those teachers high level training if I can learn more mediums to offer their students and to sorta upgrade their arts programs in the schools.
Over the last 20 years, how would you describe the impact Thea Foundation has made on the community at large?
I think the first legacy comes from our programs if you take our scholarships and, and then if you know a lot about how art teachers in many, many school districts are treated—it's pretty rough. A lot of them have no budgets to be able to do what they're trying to do, which is to inspire young people to get in touch with their creativity, which is huge, but they're not given money for their classrooms. And if they are, it's just a little bit. So that [plus] all these scholarship competitions—ten scholarships in visual arts, ten scholarships in performing arts, film five scholarships, five scholarships creative writing and spoken word and two scholarships for fashion design. 
So if you take all of the teachers that teach those at all the schools across the state, all these teachers now have a place to go. They can educate their students on the Thea Foundation and on why we're doing it. Thea's story is very inspiring to a lot of young people, and so these kids get engaged. In fact, in a lot of school districts—Mountain Home, and Little Rock, Hot Springs, all over the state—teachers start talking about Thea Scholarships in junior high school. […] That's number one, it's motivated teachers to be inspired to get their kids involved in something big and a goal to set. And then when the kids get engaged, they sense and feel, Thea—a lot of them are good out there on their radar or journal entries or see her art and everything—cause that's a girl their age speaking to them. And so I've gotten a lot of letters from parents and all kinds of things. So there's just a goodness about all of them. 
Then take our Art Closet program. There are a lot of teachers who wouldn't be able to do a very good job because all they're using are paper or paper plates and pencils to do art. And we found a lot of that because in these Spanish, especially smaller, rural school districts, these are teachers that are trained and they'll do a good job if you give them the materials. But when you're not given credit for even being an important aspect of the educational system, it really gets you down. Because we've been able to support financially, a lot of teachers—94% of Art Closet grants go to really high high poverty area schools—so it motivates them. They're able to do their job. 
And then sort of the backside of things, I've got a lot of calls from parents who go through what Linda and I have been through and because they've seen how we honor Thea, I guess they think we have some magic potion. I mean, we really don't. And all we try to do when parents want to talk to us about what to do, how do you get out of this hole you're in, get your heart patched up a little bit—you just find a right to honor your child if you want to. And we were lucky in that Thea's transition was something that we could pass forward that would be good for other kids. So in a way, I think people look to us as having done something courageous. I don't look at it as courageous. I look at it as we had to do this and that it's important that we all find something we can do for other people. And unfortunately, it came out of this tragedy with us, but we're not going to let that pass. When we saw something that we could do to offer the community in the state, we were in it a hundred percent.