REVIEW: TheatreSquared presents "Sons of the Prophet"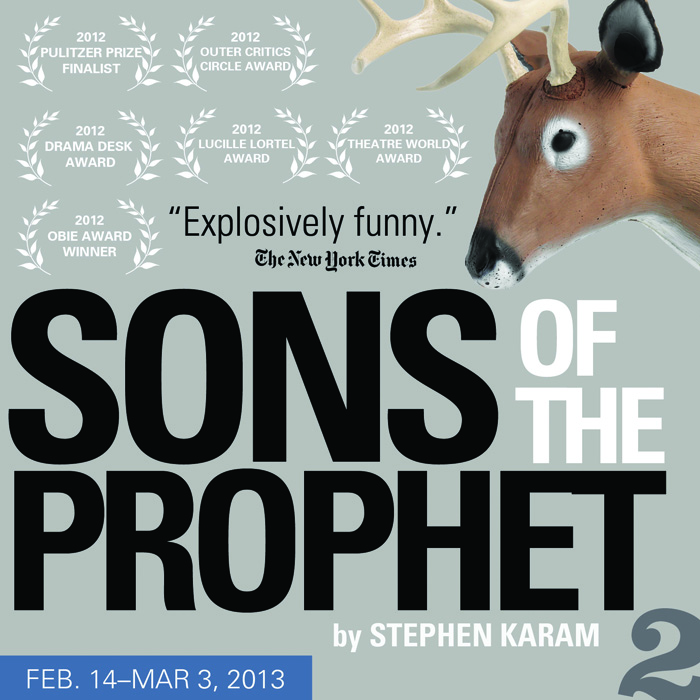 Sons of the Prophet, the Pulitzer Prize-nominated play by Stephen Karam, is a perfect blend of comedy and drama, seamlessly flowing from one to the other and back again. Focusing on themes of isolation, death and loneliness, the drama is remarkably funny at times, which provides a perfect contrast and prevents the work from falling victim to bitterness or self-pity.
While I have not seen every production of TheatreSquared in their seven-year history, I can say that is is by far the best play I have witnessed on their stage. Fayetteville is the regional premiere of the play, meaning this is the first time it has been performed outside of the Northeast. Artistic Director Robert Ford was pleased to have secured the rights for the work.
Sons of the Prophet tells the story of Joseph (Michael Bradley Cohen), a Lebanese American in his late 20s who lives in Nazareth, PA. He and his family are dealing with the untimely death of his father after a car accident caused by a local football star named Vin (J.P. Green), who leaves a deer decoy in the road as a prank.  Joseph and his brother, Charles (Mason Azbill), are caring for the aging, politically-incorrect uncle Bill (Bill Rogers). They are descendents of the Lebanese poet, writer and artist Kahlil Gibran, who's seminal work The Prophet is referenced in projects used to announce new sequences within the play.
Both Joseph and Charles are gay brothers, something that often leads to people to declare, "What are the odds?" At first, Joseph's homosexuality felt like a convenient plot device to further his isolation in their rural town, but as the play went on, it worked well since Cohen's performance bucked the traditional, flamboyant portrayal of gay men often found in popular culture. His sexuality is merely a part of him, briefly explored during a dalliance with a TV reporter (Matthew Klinger) who is sent to follow the case of Vin's postponement of punishment.
Much of the plot follows Joseph's mounting responsibilities to Uncle Bill; his brother; his neurotic boss, Gloria (Kathleen M. Darcy), who is pushing Joseph to write a memoir; and the impending school board decision concerning the deferral of Vin's time at a juvenile detention center.  As if these intertwining dramas weren't enough, Joseph is dealing with mysterious pains in his body that may be related to his high school track career or possibly something with more ominous consequences.  All of the pressure pushes Joseph the limits of his physical health and sanity.
One of the exceptional aspects of the play is the perfect casting.  All of the performances are outstanding with Rogers and Darcy in scene stealing roles. Tamara Fisch, who also directed the New York performance, headed a creative team of professionals from around the country, including Northwest Arkansas.  Their production is top notch.
Sons of the Prophet has to be the highlight (thus far) of an exceptional 7th season for TheatreSquared. Its run continues through March 3. One more production remains—the musical Next to Normal (opening on April 18)—and the 2013 Arkansas New Play Festival.
VISIT: TheatreSquared.org.