REVIEW: Family History & Glittercore @ J.R.'s Lightbulb Club 2/23/13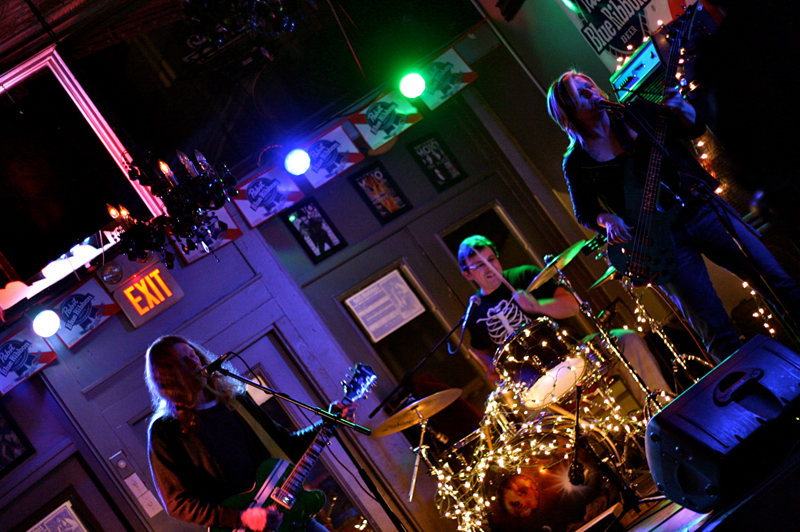 Words:  Lauren McCormick
Photos:  Olivia Yarrow
A friend of mine unexpectedly stumbled across Family History playing a show at Nightbird Books few weeks ago and told me she was pleasantly surprised. When I told her that I would be seeing them at JR's Lightbulb Club on Saturday she gave me a heads up that they were something to look forward to, so right off the bat my expectations were elevated.
Opening for Family History was Glittercore, a rock 'n' roll trio from Little Rock that could do some serious face melting with their raw sound. The heavy instrumentals combined with harmonies from female band member KV reminded me of a more mature version of 90s garage bands. There was almost a refined angst to their sound and it works well for them. To my surprise, this was the band's first time to play here in Fayetteville. You can tell these guys are veterans and have been around the block a few times, however they have no intentions of quitting their day jobs. Paul B of the band put it perfectly when he said, "I don't have to be old and worry about not having savings."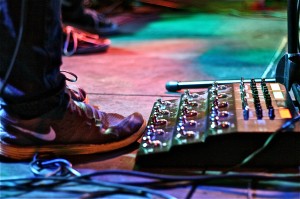 Glittercore finished, and a few beers later, Family History took the stage. I can honestly say these four guys did not disappoint. I saw instrumentals reminiscent of The Black Keys, which I didn't expect based off of listening to some of their recorded singles before the show. This mixed with the California cool of Real Estate and their apparent West Coast influence was an interesting style I hadn't heard before. And I dig it. Family History played an energetic show set off by foot stomping melodies and some funky bass that definitely got everyone's heads moving. You could tell the band was having a blast while they were playing, and it translated into the crowd.
Family History will be releasing an album soon, and lead vocalist Chase Pagan also said to keep an eye out for a live 7-track video that is in the process of being edited at the moment. They plan on continuing to play both the local and regional music scene at places like Smoke & Barrel and will join other local musicians in playing the Block Street Block Party as well. So be on the look out for this foursome around town.