Review: "Every Brilliant Thing" debuts at TheatreSquared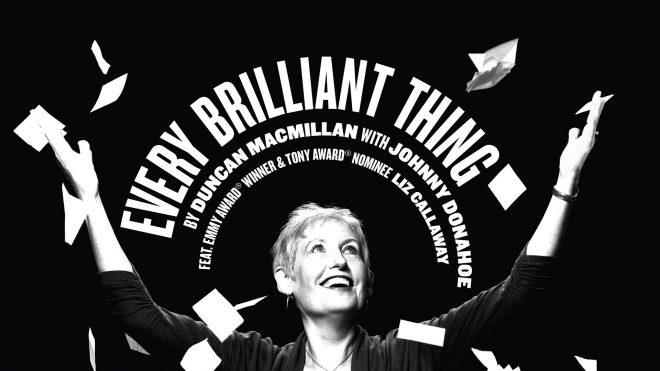 "Every Brilliant Thing" debuted at TheatreSquared last Friday night, and it was a glowing reminder of how the little things in our lives can add up to a list of a million brilliant things, starting with ice cream.
The play begins from the perspective of the 6-year-old narrator, when the list of brilliant things takes off after a frightening family moment that puts life in perspective, even for a child. Tony Award-nominee and Emmy Award-winning actor Liz Callaway stars as the narrator and star of the one-woman-show, gaining energy and bits of her list from the audience around the black box theater (this is the first arena-style "theatre-in-the-round" production for TheatreSquared).
Before the show started, Callaway and her production assistant walked around to greet audience members and pass out numbered words or phrases to read out-loud whenever she called out a number (which ranged anywhere from one to 1 million). These cards all had parts of the list on them, creating a completely immersive experience that kept everyone in the room on their toes.
As the narrator grows, so does the list. "The word 'plenth.'" "Track 7 of every record." "Sunlight." "Things with stripes." These are just a few brilliant things on the narrator's list, but the delivery and explanation of each are enough to hold the audience's attention.
We learn about each tragedy, love connection, and life change she experiences. Callaway's retelling of every instance is so real and warm, it's like the play was written for her. Playwright Duncan Macmillan did an excellent job at capturing the human condition to spark warmth through relatability in a way that is unlike any scripted play I've been to. And Callaway does it all so naturally, there were various times I forgot this was an actual script instead of a personal story told by a friend.
There may be some room for improvisation depending on some audience member's reactions and answers (you've got to see the show to know what I'm talking about), which puts a lot of trust into the people Callaway is essentially performing with. Her energy is perfect for this unique production, and since seeing the play and being entranced by Callaway's delivery, aura, and performance of "Every Brilliant Thing," I've started my own list of brilliant things. The first thing? Warm, soft blankets. The second? Seeing plays so enlightening they touch your soul and remind you of the rejuvenating love for art.
Go see "Every Brilliant Thing." Every person should see this play if they have the chance, especially if Liz Callaway is the storyteller. It was a beautiful and enriching production that couldn't have come at a better time. "Every Brilliant Thing" is at TheatreSquared until Feb. 10. Tickets and information can be found at theatre2.org.