"Hillbilly Hellraisers" lecture opens Pen to Podium series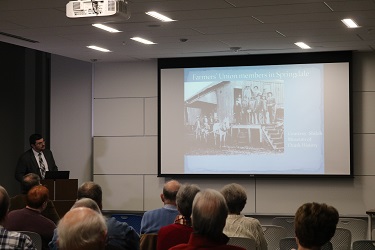 WORDS + PHOTOS // CAROLINE BIVENS
The Arkansas Archives hosted its first Pen to Podium lecture of the year with J. Blake Perkins' book "Hillbilly Hellraisers: Federal Power and Populist Defiance in the Ozarks" on Jan. 15 at the Department of Arkansas Heritage.
Perkins' book discusses the history anti-government sentiments of the impoverished rural Ozarkan farmers.
Perkins is a seventh-generation Arkansas Ozarker who grew up on a cattle farm in Smithfield. Perkins said his Ozark background inspired him to write the book.
"I've always had an interest in my family's history …. and then in college I got more interested in politics," Perkins said. "I got really interested in the political history of this region and wanted to chase it a little bit."
"Hillbilly Hellraisers" explores the relationships poor farmers had with the federal government and local elites from the late 1800s to the 1900s.
Perkins opened the lecture explaining how moonshiners in 1897 were attempting to evade the law, and how their tactics may have sparked anti-government sentiments.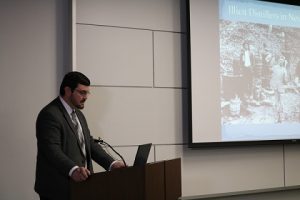 "When I started this I expected to find more of a cultural explanation (for being anti-government), there's just something ingrained in rural culture," Perkins said.
The moonshiners saw their work as agricultural, and wanted to prosper as farmers.
The rural Ozarkers believed that the power of the people would end poverty in the region. Some Ozarkers were even members of the Socialist Party.
One member of the socialist party was Sam Faubus, father of Arkansas governor Orval Faubus. Many rural Ozarkers were also anti-war, and believed that the World War I draft was unjust.
The farmers resisted many government policies and programs because they favored the local elite.
After World War II, the Ozarks saw a dramatic drop in rural farmers and a rise in poverty. Even the small black communities became anti-government activists.
Various anti-poverty programs were created, but few were ever effectively implemented.
Perkins ended the lecture with the idea that many of the early anti-government activists of the Ozarks must have "rolled in their graves" with the presidential election of Donald Trump. Perkins said unjust government influence has been extinct in the Ozarks for fifty years.
Division Public Information Officer Scarlet Sims said the book was chosen for the Pen to Podium lecture because of its significance to Arkansas heritage.
She said the Arkansas Archives chooses renowned books about Arkansas that show expertise and research into Arkansas history.
"It's important because it showcases micro history and how families reacted over the centuries to the federal government then and the government now," Sims said.
She said the quarterly lecture series brings forward some unique aspects of Arkansas.