Red Octopus Theater presents "Pagens on Bobsleds XXVII: Manger Zone!"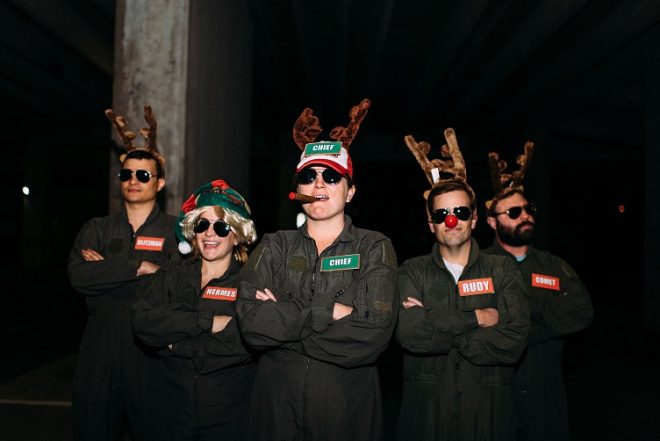 Red Octopus Theater will start their Christmas countdown this weekend when the ensemble celebrates 28 years of holiday fun and foolishness on stage with the newest sketch comedy show, "Pagans on Bobsleds XXVIII: Manger Zone!" In the show, Santa Claus's elite school of reindeer pilots must duke it out to see who will come out as "Top Duke," according to a press release. For those who are long-time Red Octopus fans, they plan to perform favorite classic sketches as well as some brand new holiday sketches that will bring holiday cheer.
The cast will feature Courtney Beard, Alli Clark Howland, Josh Doering, Scott Dombroski, Sarena Dombroski, Drew Ellis, Anderson Penix, and Jason Willey with special guest, Luke "Ramthor" Rowlan.
The show is recommended for adults and includes "bawdy talk, adult deer situations and brief reindeer nudity," according to a press release.
Red Octopus Theater has been performing original, live sketch comedy for almost 30 years in Central Arkansas and beyond. Find Red Octopus online at www.redoctopustheater.com.
Red Octopus Theater's "Pagans on Bobsleds XXVII: Manger Zone!" will run Dec. 13, 14, 19, 20 and 21 at The PUBLIC Theatre, located at 616 Center Street in downtown Little Rock.  Doors will open at 7:15 p.m. and the show will start at 8:00 p.m. Tickets are $10 for adults and $8 for senior citizens, military and students.  There are no reservations, tickets may only be purchased at the door before each show. As always, the show is recommended for mature audiences, children under 18 will be charged $327. Cash, Credit and NFC payments are accepted.
For more information and other silliness, find Red Octopus Theater: