THE RAD HATTER: Markia Herron's quest for a quality hat led to her make one herself. Now, she has her own line with customers worldwide.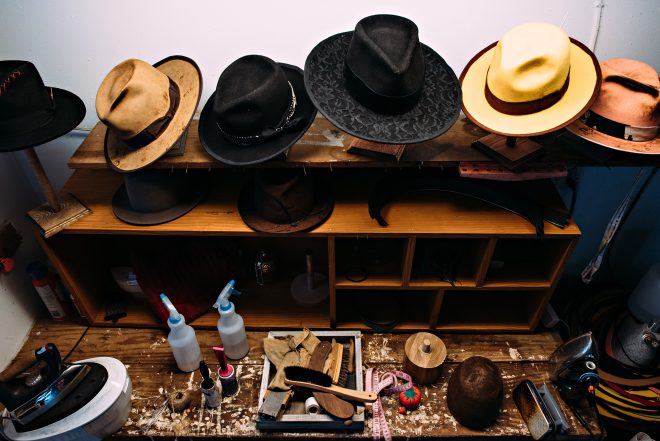 WORDS / KODY FORD
PHOTOS / HEATHER CANTERBURY
Markia Herron has a thing for hats. Finding one that worked with both her style and her dreadlocks proved tricky, but once she did, she was hooked.
"Hats are a piece that stick out," she said. "When you look at a hat, that's the first accessory you see. You don't really pay attention to their clothes. You can wear it with whatever you want. My style is simple and plain so I wanted to have something that stood out and made a statement. I like to dress well. Style makes you feel good. That's the thing about the hat, that's my style."
In the years Herron spent earning degrees at University of Arkansas-Pine Bluff and University of Arkansas-Little Rock, she purchased between 15 to 20 hats all with one common denominator—they weren't very well made. The reason for this eluded her and sparked her curiosity.
When Herron took a job in a small town in Kansas, she found herself with a lot of time on her hands. She began an online quest to find a durable, stylish hat—an Internet rabbit hole that led her to where she is today. Herron estimates there are around 30 hat stores in the United States but only one in Kansas: Hat Man Jacks in Wichita. Then while traveling for work in Manhattan she swung by JJ'S Hat Center and purchased her first high quality hat, which she proceeded to dismantle and reverse engineer.
"This isn't a trade where I can go to someone and say teach me to make hats," she said. "There's no apprenticeship. You could get lucky if you moved to California and maybe there'd be apprentice opportunity. But what I did, I don't regret it any of it because I do what I do now."
Herron estimates she constructed 100 hats before she felt she had a firm grasp on the craft and was comfortable selling her wares. She launched Herron Hats in May 2017 and since then has grown her international customer base to including celebrities such as R&B singer Anthony Hamilton, who has purchased several.
What sets Herron's hats apart is her attention to detail. Since she handcrafts them, she has the opportunity to give them unique touches you can't find from the big names like Bailey's or Goorin Brothers. Hat making is a complicated craft, it takes at least six weeks to create a custom piece. Sometimes she burns or distresses the hat to give it character. Recently she has begun adding fabrics to the underbrim. She is launching an additional ready-to-wear hat line this summer. They will still be homemade, but from a set collection of set styles.  
"When you get a handcrafted anything, whether an artist has painted a picture or anything else that's handmade, you're dealing with the craftsmanship," she said. That craftsmanship costs a premium price, but her fans have embraced it, often with many people coming back for multiple pieces. This devotion to her work is what really inspires her.
"The biggest thing is that when people like my work, it gives me the push to keep moving forward," she said. "When it comes to particular designs, I can't even pinpoint what sets my soul on fire. What I do is I listen to people's ideas. It's crazy how many ideas they throw at you. It's like embedded in my brain. At some point, I'll go back and revisit them to see how it'll work in a hat. So people really do it for me."
IG: @HERRONHATS
Listen to our podcast with Markia here.